WARNING - This post contains some disturbing bread images!
First of all - I trust my liquid rye starter. He hasn't got a name yet, but I trust him.
Last Sunday we were having some friends over, some with wheat intolerance, and I decided to make the 100% russian rye (from Bread Matters), that always works, I thought.
And I had made a few nice batches of Hamelman's levain with wholewheat, and somehow the Polish Rye we made on the baking course I recently visited felt not so far from that, and I could make it with my rye starter.
Great.
I took the starter out of the fridge the day before where it had been for some weeks, taste and smell OK, and made my pre-ferments.
The stiff pre-ferment for the levain was coming along a bit sluggishly, but the liquid one for the russian rye had some bubbles soon (although not enough bubbles, in retrospect).
I expected to make some levain loaves like these from an earlier batch: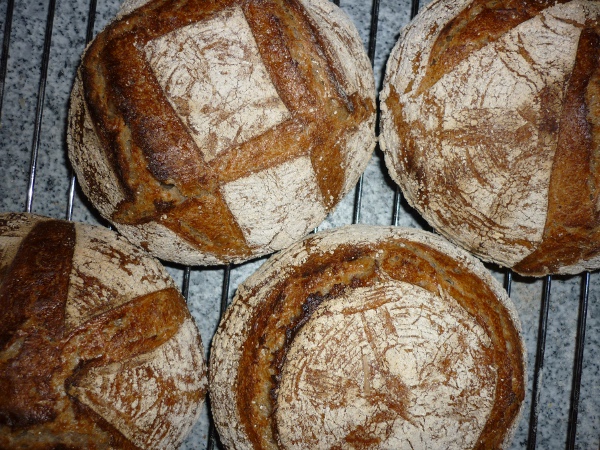 Good oven spring, nice open crumb, delicious ...
Well, now come the images... You have been warned, I am not responsible for your bad dreams.
They all tasted delicious.
But ...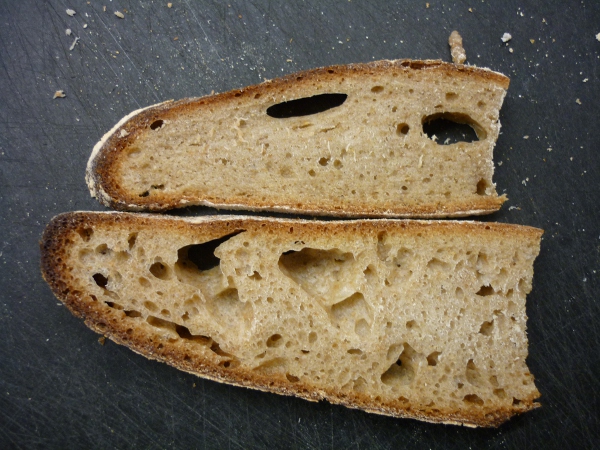 This is the levain. The top loaf proved for 3.5 hours at 26C. Seriously underproofed.
I didn't trust my finger test!
I will use this one for experiments with old bread.
The bottom loaf prooved for 9 hours. Great taste, crumb not ideal.
With the Russian Rye I expected no problems, but it rose very slowly.
Well,
The photo speaks for itself ...
After 11 hours the dough had risen to a level I expected (usually it takes half that time) and I baked it.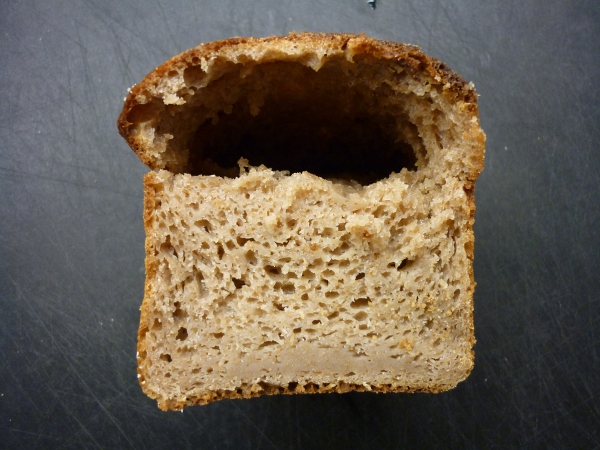 My starter was simply starved, and I didn't pay attention to the warning signs.
As I said, I trust my starter, still.
Currently he is being pampered with some fresh flour ...
Happy baking,
Juergen