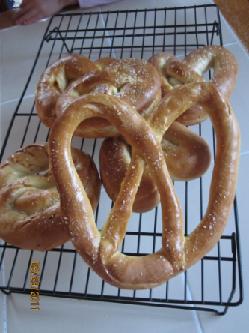 I found a great pretzel recipe here by Floydm The crumb was crunchy and the real bread was chewy. Again, This is a great pretzel recipe and I recommend every one to try it. Thank you Floydm.
http://www.thefreshloaf.com/recipes/pretzels [1]
I also converted the measurements to grams. Find the conversions below.
      1 tsp Active dry yeast ( 3g)  The yeast ran out, it was actually less 1 tsp.
      1 tbsp malt powder (12 g)
      2-3 cups of King Arthur bread flour (351g = 2cups+25 grams).
      1 tsp salt ( 6g)
      1 cup of warm milk ( one minute in microwave) (240g)
Cold baking soda method :http://www.thefreshloaf.com/recipes/pretzels#comment-136086 [2]
         Happy baking,       
         Hajime