February 25, 2011 - 2:19pm
Focaccia, Sourdough, and Rolls
I've been baking bread a long time and I'm still amused by the narrow line between success and failure. I fed my sourdough starter last night in preparation for baking a (singular) rustic loaf today. When I looked at the starter early this morning it had grown to over 16 oz. by weight. Being a frugal person I decided to use all the starter and made a monster ball of dough. I blended 2 recipes, substituted and blended flour, and basically just winged it with autolyse, proofing, and shaping. I ended up with a 2 1/2 pound boule and 20 2 oz. rolls. I stayed on the right side of that fine line somehow and ended up with great looking bread and awesome crumb and taste.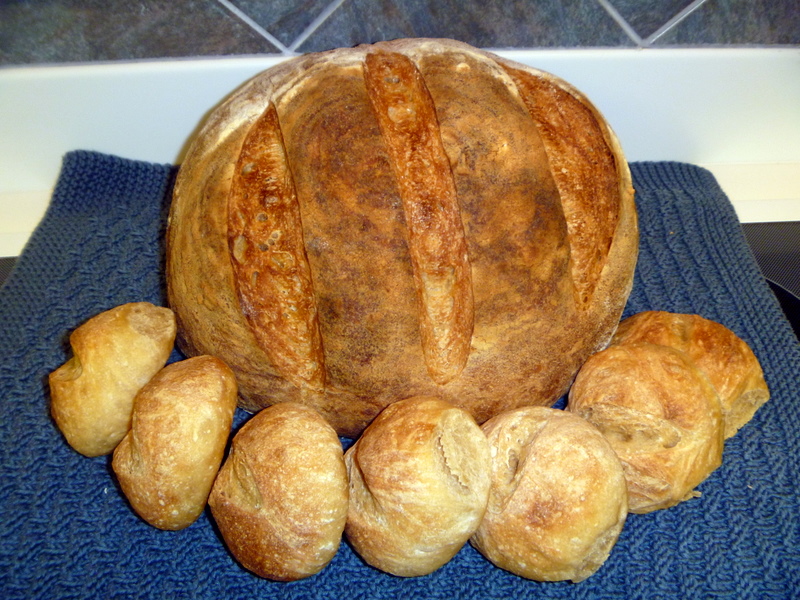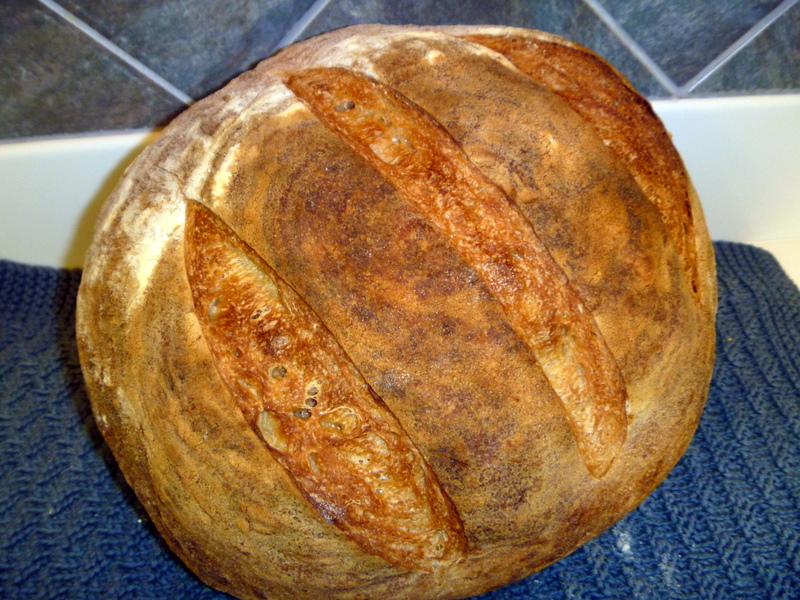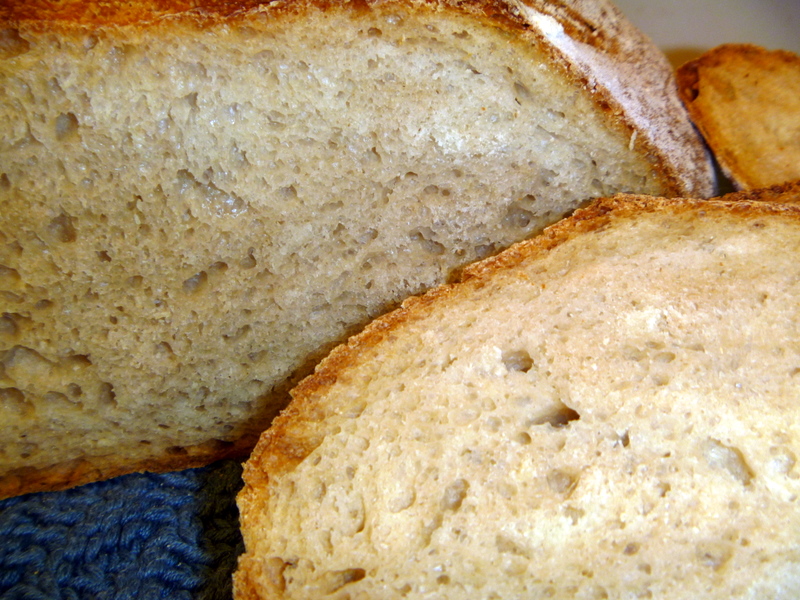 And just because I like a challenge, I made a 100% whole wheat focaccia at the same time. I almost crashed and burned with getting everything in and out of the oven on time, but again I stayed on the line.
The lesson?  Learn to trust the instincts you develop through experience and have some crazy, risk-taking fun! It is a hobby, right?
Whole Wheat Focaccia
This 100% whole wheat flour recipe was adapted from the King Arthur Flour Whole Grain Baking cookbook.
Biga
Mix together until well blended. Cover and let stand at room temp for 12 to 16 hours.
4 oz. KAF white whole wheat flour
4 oz. water
Scant pinch of yeast
Dough
In the mixer bowl of a stand mixer add:
All the biga
9 oz. water
1 oz. orange juice
12 oz. KAF white whole wheat flour
3 Tbs Vital Wheat Gluten
Pinch of ascorbic acid
2 tsp salt
3/4 tsp instant yeast 
With the paddle beater, mix on the lowest speed until dough starts to come together. It will be very wet and slack. Scrape down the paddle and add 1 to 2 Tbs water if the dough seems too dry. Mix on the lowest speed for 2 minutes. Increase speed to medium and knead for 4 minutes. The dough will be very soft.
Cover and let rest in the bowl for 30 minutes. Scrape the dough onto a silicon mat and fold like an envelope length-wise and width-wise (4 folds). Return to bowl, cover, and let rest for 30 minutes. Repeat the fold process again, and let rest for 30 minutes. Repeat the fold process once more and turn out onto a parchment-lined half sheet pan. With oiled hands, press the dough outward to the pan edges. When dough stops spreading, let it rest for 10 minutes then continue pressing the dough out with your fingertips. The dough will not cover the pan - it will be approximately a 10" x 13" oval.
Cover and let rise for 30 minutes while preheating the oven to 500 degrees. I use a baking stone set in the bottom third of my oven. Uncover the dough and drizzle with olive oil. With greased fingers, gently dimple the dough. Sprinkle with coarse salt. Bake in the pan on the stone for 18 to 20 minutes until a deep golden color.