February 23, 2011 - 10:08am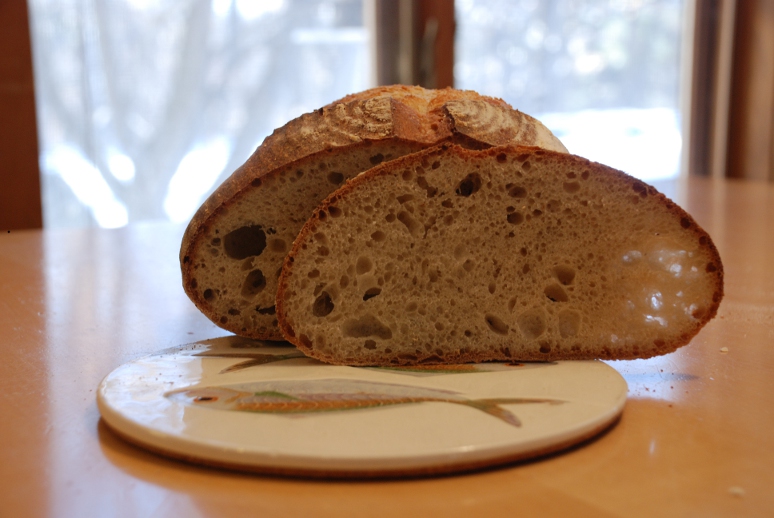 After struggling with several formulae which never seem to come out right, I decided to change things up a bit.   First, I completely changed my starter routine.   Second I found myself at the counter with an empty mixing bowl and no idea of what I was going to make, so I made something up.   I'm not that good at computing percentages in my head, so I kept it simple, basically going with a fairly simple sourdough, but swapping in some white rye.   The results were less than stellar - the loaf exploded in the oven - basically jumping to around three times its unbaked height.  The second time all seemed well in the oven but halfway through, suddenly it slipped a gasket and a huge cancerous growth leaped out the side, almost as big as the mother loaf.    The third time, I could probably have waited another half hour on the final proof but it was way past my bedtime.   It may have opened too much but it didn't explode, so I call that a victory. 
The addition of white rye (which incidentally Hamelman says is not fit for bread baking) makes some pretty interesting but subtle changes in taste an texture.   My husband, who generally will only eat a slice or so of my more obviously rye breads eats this as if it were an all white bread which I guess it is.  The crumb is denser than a lower percentage rye sourdough, you can cut extremely thin slices without tearing the loaf, but still quite open.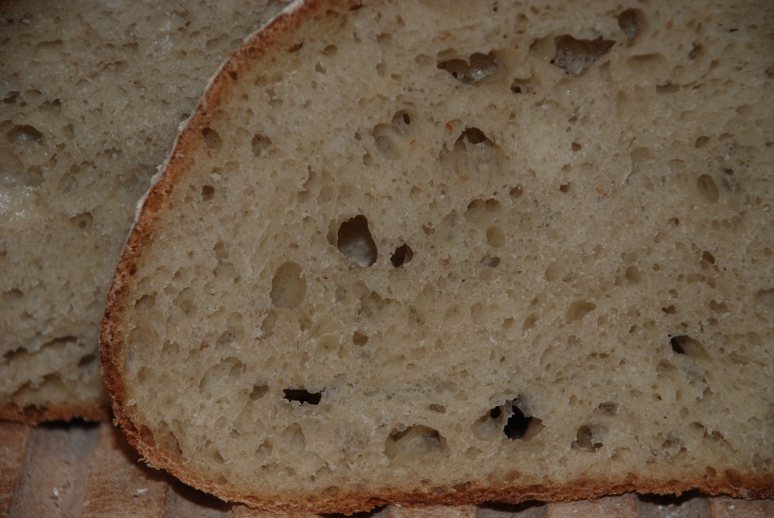 In general, the taste is such that I wouldn't mind having this as my everyday loaf.  
One of the things I've been working really hard at is trying to control the temperature of my dough.   I came upon a very simple method.   I take a pot and fill it with very hot water directly from the sink, and put the lid on upside down.   Then set the bowl or proofing basket on top of it.   I replace the water after the second stretch and fold as by then it has cooled down a bit.   I have found that I can maintain dough temperature in the mid 70s F by using this method.    Even so I still underproofed because it just seems to take so long to ferment this dough all the way through.   Here is my set up: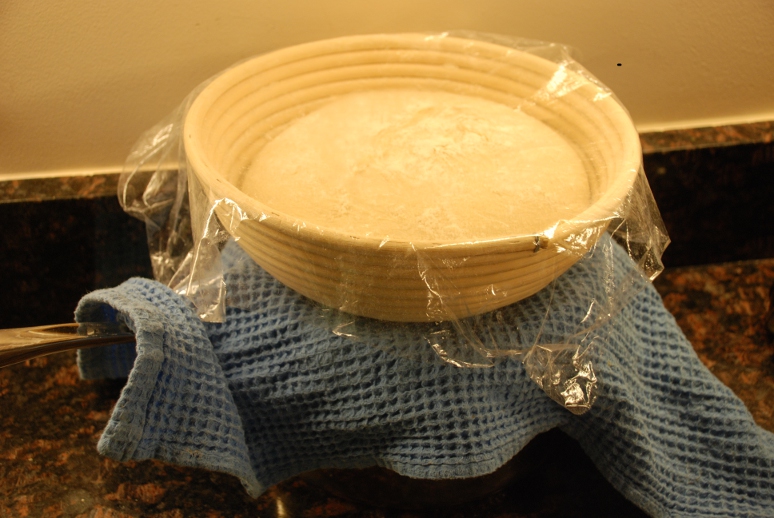 Finally the formula - simple but good if you throw in a little patience:
| | | | | | |
| --- | --- | --- | --- | --- | --- |
|   | Final Dough |   | Starter |   | Percents |
| KAAP | 400 |   | 90 |   | 82% |
| White Rye/Dark Rye | 100 |   | 4 |   | 18% |
| Water | 350 |   | 59 |   | 69% |
| Salt | 11 |   |   |   | 1.9% |
| Starter | 153 |   |   |   | 15.9% |
|   |   |   |   |   |   |
| Total grams/ estimated pounds | 1014 |   | 2.0 |   |   |
Instructions:
Autolyse flour and water for 20 minutes.   Mix in salt and starter.   Bulk Ferment for 3 hours with three stretch and folds.  Proof for AS LONG AS IT TAKES.   Bake at 450F with steam for first 15 minutes, without for 17 minutes.