February 21, 2011 - 9:04am
Levain
30g starter @ 100% hydration
60g whole wheat flour
60g water
Allow to ripen 8 - 12 hours.
Final Dough
150g levain
275g water
450g bread flour
80g dried longan
8g salt
Mix together levain, water and flour.  Autolyse 50 mins.  Knead in salt.  Finally knead in chopped dried longan.  Bulk ferment for about two and a half hours with folds at 50 and 100 mins respectively.  This turned out to be a strong dough and probably didn't need the second fold.  Divide in two. Preshape.  Rest 20 mins.  Shape into batards.  Final proof, two and a half to three hours.  Slash.  Bake with steam for 20 mins at 230C and without steam at 200C (convection) for another 20 mins.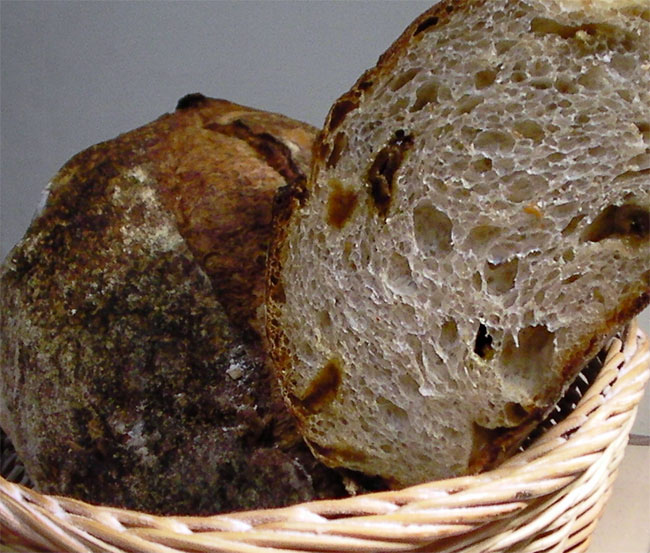 Dried longans are expensive and I stinted on them.  I should have chopped them up finer, too.  As it was, not every slice had fruit in it or, at least not enough.  I love the taste of dried longan and more is better.  As a result the slices with not enough fruit were bland and now I am already planning the next attempt.  Next time, apart from adding more fruit, I will add some longan syrup to see if that will enhance the flavor even more.
Boule
150g ripe starter @ 100% hydration
300g water
80g sifted whole wheat
20g rye
350g bread flour
3g diastatic malt
Mix together and autolyse for 50 mins.  Now add:
10g salt
Knead until moderate gluten development. Bulk ferment two and a half hours with folds at 50 and 100 mins respectively.  Pre-shape. Rest 20 mins.  Shape into tight boule.  Allow to proof until three quarters risen.  Retard overnight.  Remove from fridge and allow to complete proof: one to two hours.  Bake on stone @ 230C with steam for 20 mins and @ 200C (convection) without steam for a further 30. Switch off oven, crack oven door open and allow to dry out for a further 5 mins.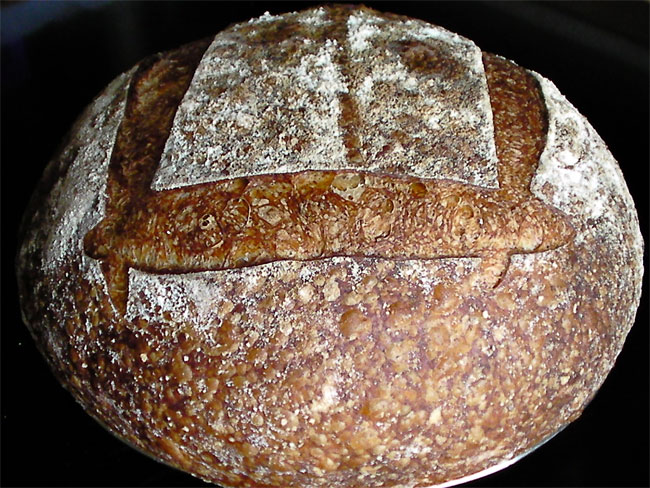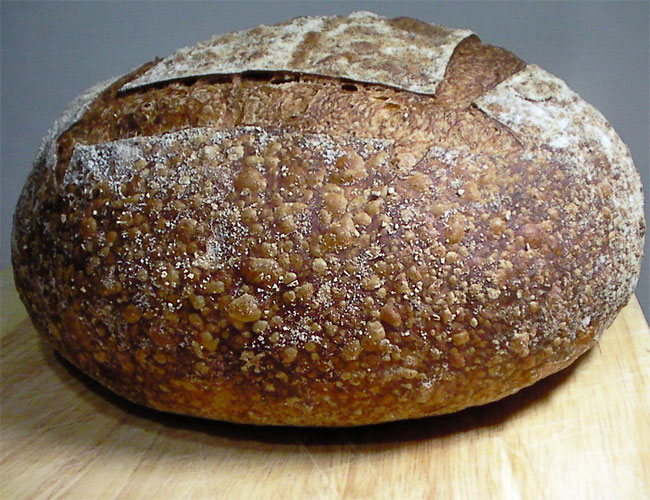 No crumb shot for the boule, yet but will update with one tomorrow.  This is just my standard everyday bread, so I know how this one is going to taste.
Syd
Feb 22:  Crumb shot.