February 14, 2011 - 7:33pm
When I first joined TFL over a year ago, I was completely blown away by a post by Shiao Ping.   Perhaps you remember it - a Gérard Rubaud miche stenciled with his initials and photographed with Japanese maple leaves floating around in the frame:  http://www.thefreshloaf.com/node/15778/g%C3%A9rard-rubaud-miche [1]. I read the post over several times and just shook my head.   Maybe in another life...  That other life may be closer but it isn't here yet.    A few weeks ago I suddenly remembered this post and looked it up and tried it.   I tried to follow Shiao Ping's instructions to the letter.   I added tiny amounts of spelt and rye to the starter - in fact so tiny that they are not really measurable in my kitchen.   I mixed up the dough, and religiously did the 5 in the bowl stretch and folds every half hour.   I retarded overnight because she did even though she said that GR doesn't do it that way.   And what did I find the next morning?   Soup.   I poured it out onto my peel and it flowed over the edge.   I flipped up the overflow and slid it as best as I could onto the stone and it flowed over the edges of the stone.   Not a happy thing.   But I baked it, and pulled it out and cooled it down and cut off the overflow lips, and tasted, and oh man.   Ugly but delicious.   Here is the ugly.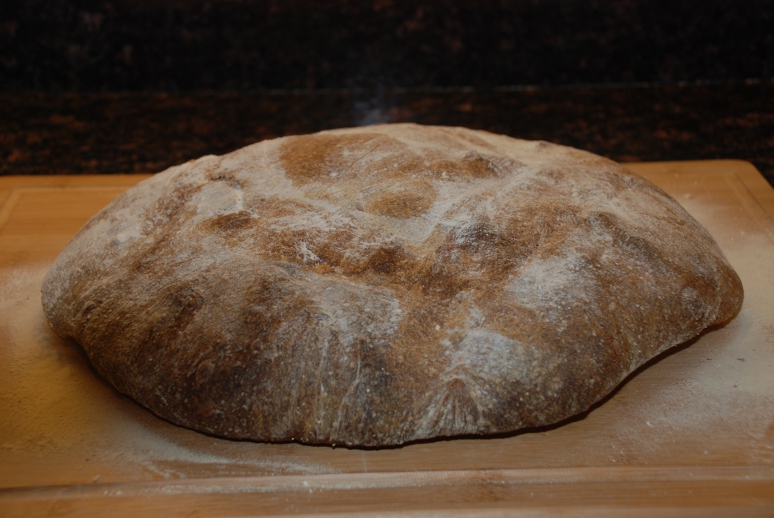 I can't show you the delicious.  I tried to figure out what I could do differently.   I decided to do away with some of the tiny measurements by only adding rye to one elaboration and spelt to another (it's a three stage starter) and I decided not to retard overnight, and to do two stretch and folds on the counter every 50 minutes a la Hamelman.   I also cut the total from around 4 pounds to 2.5 (is it still a miche?) And finally I moved around the times of the starter stages.   Instead of having the first tiny amount ferment overnight which I thought would just dry out since it was so small, I had the first stage go for 3 hours, and the second overnight.   So again.   This time the dough seemed a bit more manageable, but even when it would come together on a stretch and fold, it would seem to liquify immediately thereafter.   This is an 80% hydration loaf, and that's high, but I've made other formulas at 80% and something else seemed to be going on than high hydration.    Here is outcome number 2.   Not much better.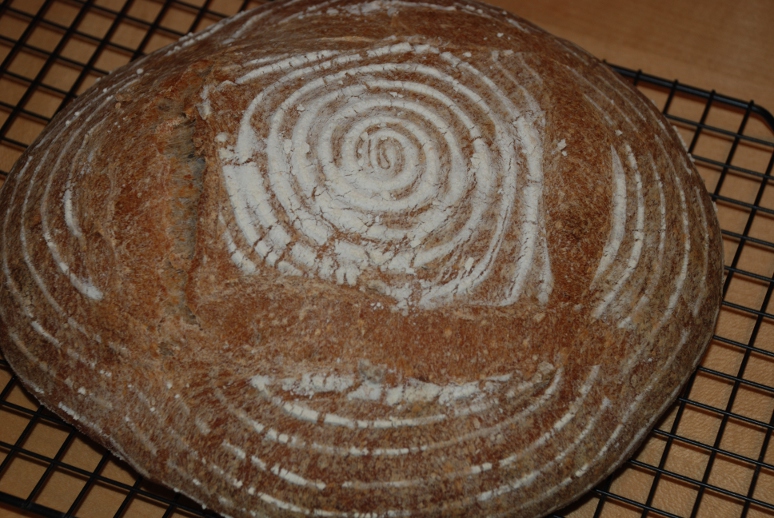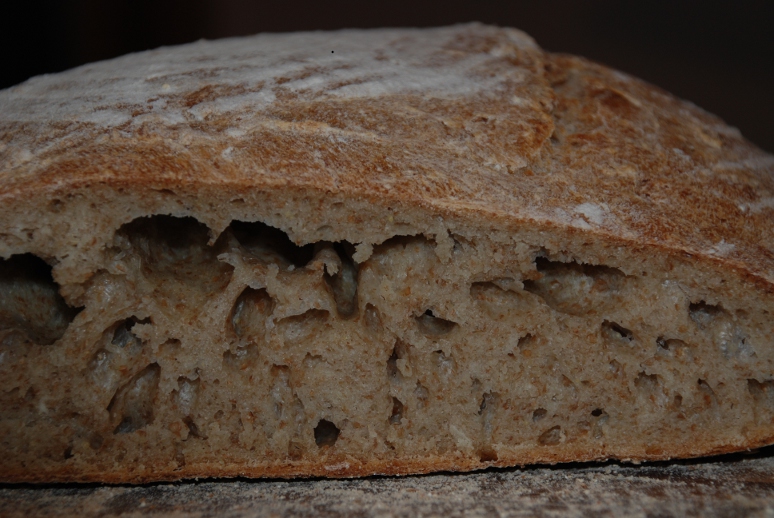 but still really delicious and motivating me to figure out how to make this thing properly.    On my third attempt, I decided the main issue is that the starter was the culprit that was causing severe liquification of the dough.    This is a crazy starter.   You start out with a tiny amount and build up the flour by a factor of 40 over three stages.   It has a high percentage of whole grains which I thought might be the problem.   You also add such tiny amounts of rye and spelt in the first two elaborations that you end up asking yourself, why am I doing this?   So I decided that in the hands of an artist like Shiao Ping this might be doable but for a peasant like me, no way.   I decided to take my regular starter and build it up as I normally do in two stages, building up the flour by a factor of around 5 rather than 40 with white flour only leaving out the whole grains.   I compensated for this by adding the whole grains to the final dough and kept all the percentages the same as the original formula.   I felt that only by working with a starter that I understood could I have any chance of getting this bread made properly.   Here is the starter build and formula that I ended up using:
 
 
 
 
 
 
 
 
 
    First
take half
        Second
 
 
 
70%
   10:15pm
plus 9.5 hours
plus 5 hours
Ripe Starter
132
 
 
 
 
 
WW
 
 
 
 
 
 
Spelt
 
 
 
 
 
 
Rye
10
 
5
 
 
 
White
68
100
84
100
 
 
Water
54
67
61
46
56%
 
Expansion
 
 
 
 
4.9
 
Total / % used in final dough
 
 
296
52%
 
 
 
 
 
 
 
 
 
Final
Starter
 
 
 
 
WW
127
0
 
 
18%
 
Spelt
64
0
 
 
9%
 
Rye
19
3
 
 
3%
 
White
405
95
 
 
70%
 
Water
515
55
 
 
80%
 
Salt
13
 
 
 
1.9%
 
Starter
 
153
 
 
14%
 
 
 
 
 
 
 
 
Total grams/Estimated pounds
1296
2.57
 
 
 
 
This seemed a lot better behaved in the bowl coming together on the stretch and folds and not liquifying immediately thereafter.   Imagine my surprise when I tried to remove it from the bowl it was proofing in when it again flowed over the edges of the peel.   Again I quickly flipped up the overflow so the whole thing looked like a bialy and slid it into the oven without slashing (as if you can slash liquid.)   In the oven it expanded nicely and the sunken center filled out.   Again not a thing of beauty.   The crumb this time seemed more or less proper without the big caves of the first two at the top of the loaf.   But now I'm feeling tapped out.   I don't know where to go from here.   I don't understand the tendency of this dough to liquify at a moments notice.   Any ideas?   In other words - help!
The third try: