February 7, 2011 - 2:32am
Sourdough Corn Bread with Old Bread - something old is new again
This bread was inspired by a post [1] at Wild Yeast Blog [2] (and also my inner frugality and curiosity) about incorporating old bread into the dough. The idea is also based on the bread-making wisdom that old bread will improve bread flavour and its keeping quality.

I love the idea that instead of throwing stale bread away, I can make the use out of it. The piece that was destined for the bin or compost could potentially improve the bread flavour and texture. It is a fabulous idea.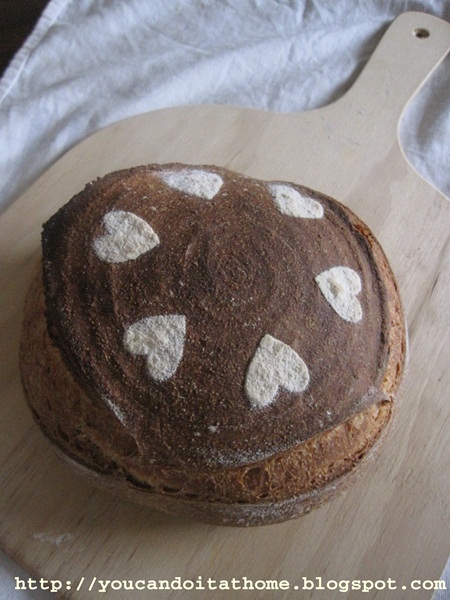 I had a small piece of sourdough corn bread left over from two weeks ago that I have put them aside in the fridge. I chopped it into one-inch pieces and process them in food processor to get the breadcrumb (it was about 90 grams, or 10% of total flour weight).
The bread has a wonderful aroma, and it is even more so when toasted. The bread is quite sweet even though there is only 5% of honey in it. I guess the high amount of corn in the recipe also contributse to the natural sweetness of the loaf. I totally love this bread for its flavour and aroma. It is seriously yummy bread. It's nice on its own and even better with butter.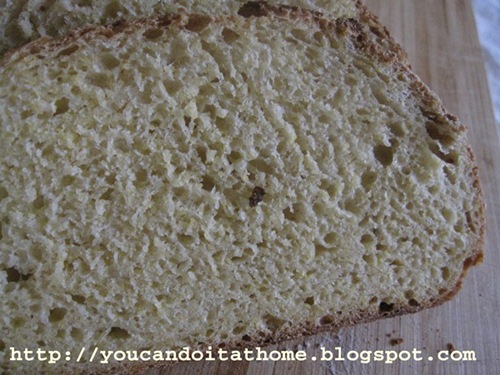 I also stenciled hearts into the loaves, just to get into the spirit of Valentine's Day:P.
For more details and pictures, you can follow the link below:
http://youcandoitathome.blogspot.com/2011/02/sourdough-corn-bread-with-old-bread.html [3]
Sue