Hamelman three stage 90% rye sourdough
In trying to digest all the helpful advice I received from this list on managing fermenting, shaping, scoring, proper sourdough culture and so forth, I found myself in areas of Hamelman where I had never wandered before.   I looked with some amazement at the instructions for Three stage 90% Sourdough Rye.  This uses the Detmolder method of rye bread production.   What struck me as altogether improbable, is that you start with a teaspoon - yes that is .1 oz, or less than 3 grams - of ripe starter and build it up to a pound and a half (672g) over the course of around 24 hours, in three stages with each stage oriented to developing a different characteristic of the starter.   I admit, I wondered if this would work for a mortal baker such as myself, but I happened to have the necessary ingredients around (more or less) so I set off to see if an actual bread could be produced.   The instructions in Hamelman (page 201 in my version of Bread) are quite clear.   I followed his three stages carefully - and starting with a teaspoon of starter, produced a very pitted and expanded rye starter by the time it was ready to bake.   The final dough calls for medium rye, which I didn't have so I used 60% white rye, and 40% whole rye.   The instructions call for a bulk ferment time of 20 minutes, and final proof of around an hour.   I had to call off the latter after 40 minutes because it had almost tripled in size  was getting too
big for my stone.   The instructions called for scoring with a dough docker, which I don't have, so instead I stippled with a skewer.   The dough also seemed to stipple itself, so it was very holey by the time it was ready to go into the oven.   Finally the house filled with an almost overwhelming scent of toasted rye.   And an improbable loaf is now resting on my counter soon to be wrapped up in linen and cut and tasted tomorrow. 
The stippling:
and profile:
and finally the crumb: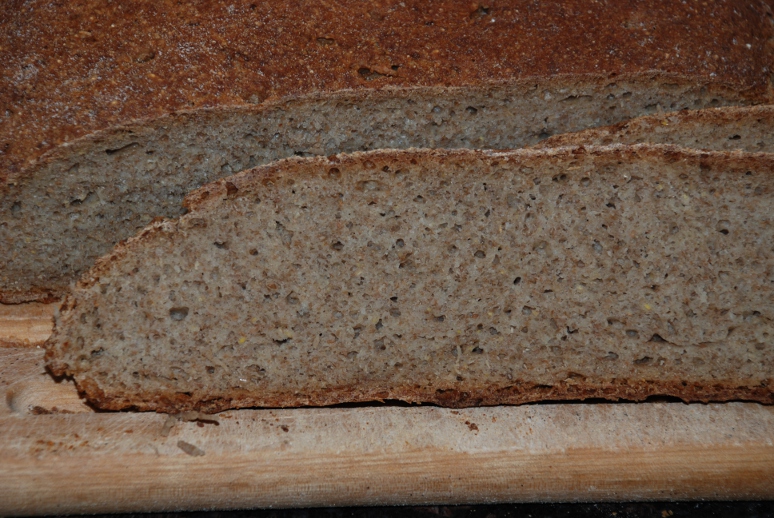 It's hard to assess this, since I've never actually eaten this type of bread before, and I don't know either what it's supposed to look like or what it should taste like.   But just as a lay opinion on the matter, and after only a couple of bites, I would say yum!