Whole Wheat Bread from BBA made with fresh-ground flour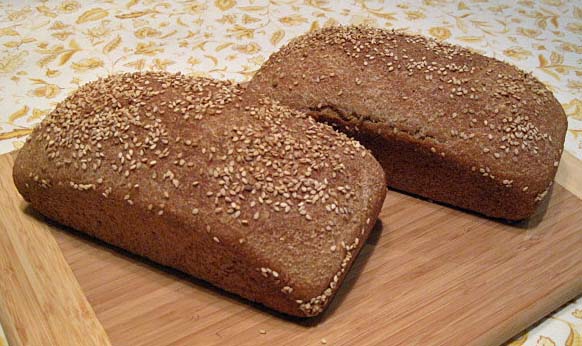 A couple days ago, I tested my new KitchenAid Grain Mill's output with a formula calling for about 30% whole grain flour. It was very good. In fact, the flavor of that bread has improved over two days. Even as I dipped my toe in the home-milled flour waters, I knew that the real test, for me, would be how the flour performed in a 100% whole wheat bread.
Most of my breads are made with levain, but my favorite whole wheat bread has remained the "Whole Wheat Bread" from BBA. This is made with a soaker of coarse ground whole grains and a "poolish" made with whole wheat flour. I have used bulgur for the soaker in the past. Today, I used coarsely ground fresh-ground hard red winter wheat, the same wheat was used finely ground for the poolish and final dough. The formula can be made as a lean dough (plus honey) or can be enriched with oil and/or egg. I used both.
The KitchenAid Grain Mill does a great job with coarse grinding. I found that, with the first pass, the particle size is rather variable. It seems to even out by putting the flour through the mill again at the same setting.
I ground the rest of the grain at the next to finest setting. I put it through 3 passes of increasing fineness, actually. The flour ends up somewhere between semolina and AP flour fineness, at least by feel. This slightly coarse flour, fresh-ground, seems to absorb a bit less water than the KAF WW flour I usually use. I ended up adding about an extra tablespoon of flour to adjust dough consistency during mixing.
Bulk fermentation, dividing, shaping and proofing showed no differences I noticed from the behavior of this bread made with KAF WW flour. However, there was a remarkable difference in the aroma of the bread during baking and cooling. It filled the kitchen with a wheaty smell that both my wife and I found absolutely lovely. (As I write this, the bread is cooling. I hope it tastes as good as it smells!)
Another remarkable difference is that the color of the loaves is quite a bit lighter than loaves made with KAF WW flour and exactly the same other ingredients and the same baking time and temperature. I thought this might be because the KAF WW has malt added, but it is "100% hard red whole wheat," according to the ingredient list on the bag.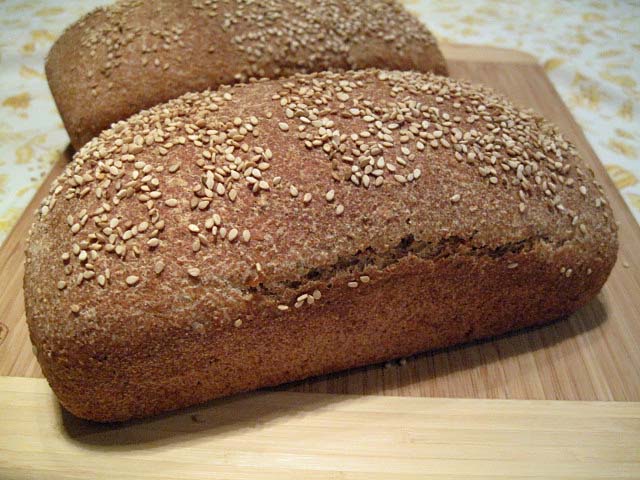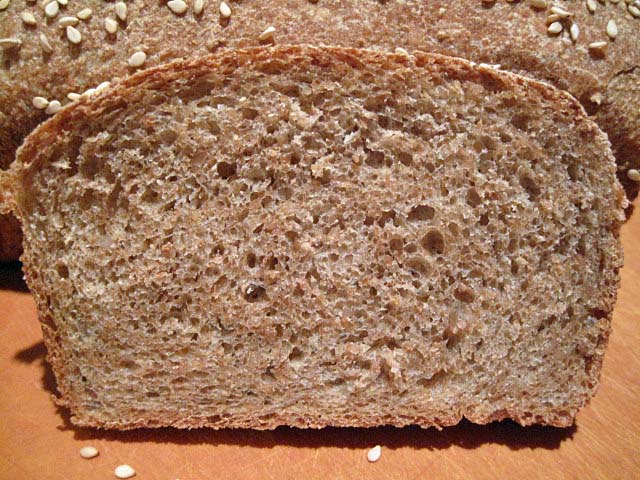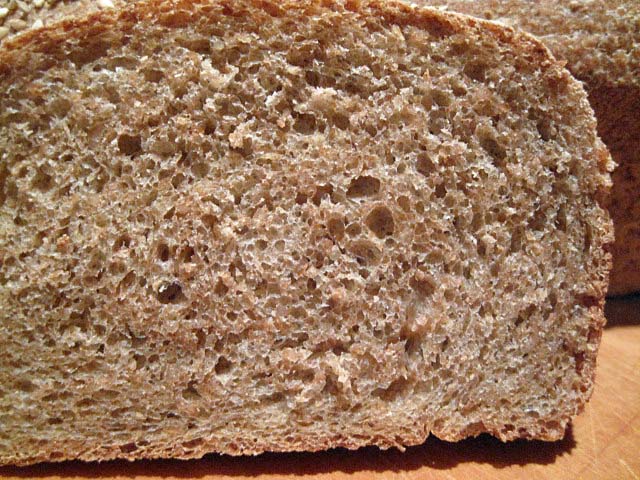 The flavor of the bread is just perfect, to my taste. It has a wonderful whole wheat flavor with not a bit of grassiness. It is very slightly sweet. I used a very mild-flavored clover honey, and I cannot find any distinct honey taste in the bread. The flavor is bolder and more complex than this same bread made with KAF WW flour. I'm sold!
As I've written, above, Reinhart's whole wheat bread from BBA has been my favorite. I've made other whole wheat breads from formulas in Hamelman's "Bread" and Suas' "Advanced Bread & Pastry" that I found less tasty. I am now wondering how they would be if made with fresh-ground flour. Hmmmm …. This is shaping up to be a project.
David