December 31, 2010 - 3:46am
Traditional Dutch New Year's Eve cookies
For New Year's Eve I decided to share this wonderful traditional Dutch cookie-recipe.
Up to this day people in the northern and eastern regions of The Netherlands eat this waferthin cookie for NewYear's Eve.
They come in two varieties: flat and rolled up.
The flat ones you eat the 31st of December, the rolled up ones you can eat starting the 1st of January.
The flat wafers represent the old year that has fully unfolded. The rolled up wafers stand for the new year, that still has all of its secrets rolled up in it self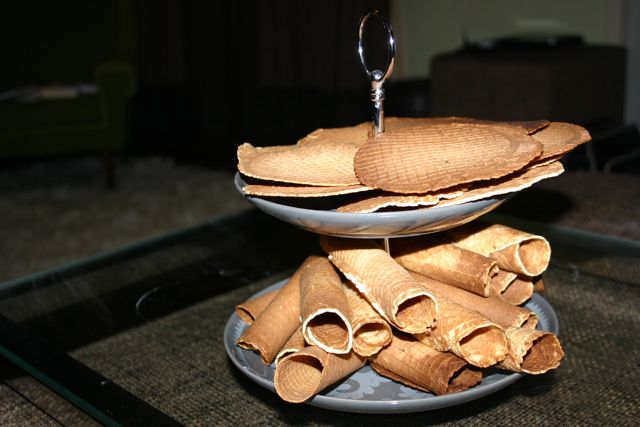 This recipe yields at least twice the amount shown in the picture.
To make the cookies waferthin you will need a WAFER IRON.
TRADITIONAL DUTCH NEW YEAR'S EVE COOKIES
500 grams AP flour
450 grams white caster sugar
30 grams of vanillasugar
5 eggs
200 grams unsalted melted butter
lukewarm water if needed
Combine the eggs, caster sugar and vanilla sugar in a large coleander.
Mix at high speed over a pan of hot water ("au bain marie") until the eggs turns slightly whiter and the mixture is nice and frothy.
Take the coleander away from the hot water pan. Sift the flour into the mixture. Add the melted butter little by little to form a smooth batter, about the consistency of yoghurt. The batter should "ooze" from the spoon.
Add some lukewarm water if needed to get the right consistency.
Spoon a dollop of batter on to the heated wafer iron and press hard for about 8-10 seconds. The wafer should come out nice and golden brown.
When making flat wafers: leave on a rack to cool.
When making rolled up wafers: roll the wafer onto a fingerthick wooden ladle or thin rolling pin. Let them set for about 20 seconds and transfer to a cooling rack.
Wishing all of my TFL-friends a healthy, inspiring and positive 2011! Thank you for all the feedback on my posts. I hope you will all continue to make me a better home-baker in the coming year!
Warm greetings from Amsterdam,
Freerk