December 28, 2010 - 5:34am
chestnut rolls, straight from the heart!
Glezer versus Reinhart
After getting Reinhart's "Bread Baker's Apprentice" for X-mas this year (thank you sis!) I baked my first bread "from the heart" and I loved it!!! So far I've been a "follower" of the Maggie Glezer-way of going about business:
I've been meticulously studying formulas and weighing ingredients to the milligram, producing very nice loafs as a result. But after baking with my head so much, it is time to start baking with my heart!
Reading Reinhart made me take a leap of faith; or to be more exact; it awakened my faith in myself! Look at the dough, feel the dough, work it the way you feel it's right! I love this whole approach, and I guess I was ready for it, knowing about the basics of bread by now (thank you Maggie!)
So, when I was looking around for a good formula using the chestnut flour I brought back from Rome two weeks ago, I decided to just go ahead and DO IT! Based on the general knowledge about the chestnut flour I concocted my own little dough and produced a batch of wonderful rolls, fragrant with the smell and taste of chestnut, with a nice crust and an okay crumb (I guess this would be the moment where, if Glezer were to read this post, she would comment: If you would do it my way, your crumb would have been more than okay as well...)
Very tasty! If you want to see my "year in baking" slideshow, you can find that here [1]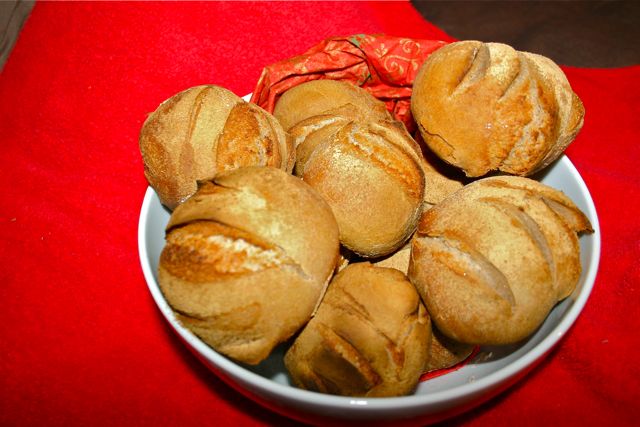 I really hope you all enjoyed a wonderful X-mas. Check my blog in the coming days if any of you TFL'ers in the good old USA are interested in some traditional Dutch New Year's eve baking. I will show you how to make  "oliebollen", the precursor to what you guys have turned into.... donuts! I will also be baking the traditional "knieperties", a New year's treat that stems from the region in the north that i grew up in, and that I love because there is a wonderful simplistic symbolism attached to them. More to follow! Have a good week!
Freerk