December 16, 2010 - 12:24pm
Sourdough Rye with Seeds – cast iron bake
Sourdough Rye with Seeds – cast iron bake
First, thanks to Eric Hanner for this post providing inspiration to explore covered cast iron cooking recently:  http://www.thefreshloaf.com/node/21006/my-combo-cooker-experiment [1].  This is my second bake with cast iron and I like the results!  Flavor and texture were awesome!
I already owned a 5 qt Wagner Dutch oven with a glass lid that has been in the family as long as I can remember.  The diameter is the same as the 3 qt. Lodge combi cooker - the higher capacity of the Wagner being due to taller height.  So I had vessels that would allow two similar sized loaves to be baked at once- albeit with one having glass and one having cast iron cover.  Both loaves came out identical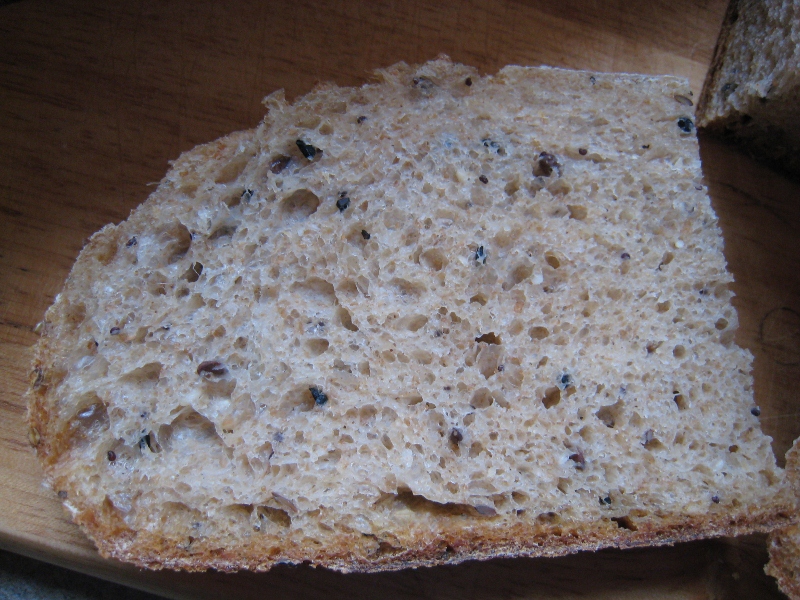 Sourdough Rye Recipe for two loaves (2,066gr or 2.3 lbs prior to baking)
Overall Formula:
60% bread flour (697gr)
25% fresh ground whole wheat (293gr)
10% fresh ground whole rye (114gr)
5% Oat bran (I tend to add to all of my breads for health reasons - 58gr)
23 grams sea salt
20 gr molasses (approx 2 tbs)
10 gr malted wheat powder (approx 2 tbs) – sprouted, dried and ground into flour (malted barley would substitute)
40 gr mixed seeds: Flax, charnushka/black caraway, sesame, poppy seeds (approx 4 tbs)
72% hydration ratio: 834gr water including starter build up.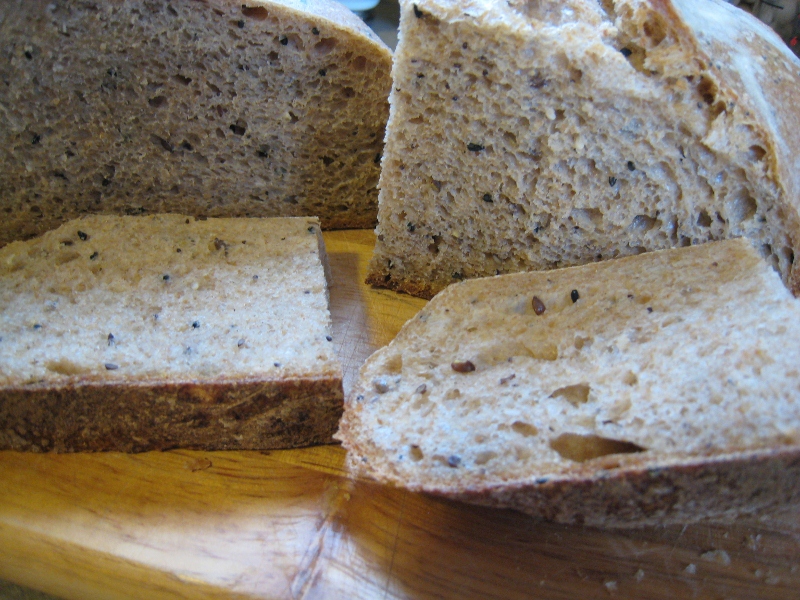 Build Stages:
1.      Stage 1 - build rye starter (100% hydration) to 228 grams (11% of recipe).  This uses all of the rye flour.
2.      Stage 2 – add 293gr of whole wheat, 58gr oat bran, 38 gr white bread flour, all of the seeds, 389gr water.  This approximates 39% of the total formula.  When combined with Stage 1 equates to 50% of the total recipe.  Let proof 8 hours at 78° (oven off light on gets works well).
3.      6pm: incorporate remaining ingredients other than salt.  40 minute autolyse.
4.      Add salt, mix 6 minutes on low speed.
5.      Stretch and fold 3 times at 45 minute intervals.  Keep at 78° between folds.
6.      10:00 pm: Preshape loaves, rest 25 minutes, shape into final loaf and place in floured banneton (actually: $1.50 colander from the dollar store lined with a microfiber dinner napkin and lightly dusted with flour- micro fiber wicks away moisture and releases fine with modest dusting)
7.      Place in plastic bag, leave overnight in refrigerator.
8.      Preheat oven 1 hour at 500° - include Dutch ovens and lids
9.      Plop dough into hot vessels, spray with water, score, and cover.  In they go.
10.  Reduce heat to 450° after 5 minutes
11.  Remove cover after 30 minutes
12.  Baked another 5 or so minutes until internal temp is 195°.  Shut oven until internal bread temp was 202°. 
Note: While the loaves came out nice, the crust is not rock hard as Eric was striving for and as was pointed out in his post/link above.   While my crusts were not rock hard after a 30 minute cover, I am still happy with the outcome.  
Perhaps next time I will leave the temp higher and in the oven longer to see what impact that has on the crust. And not spray dough after putting into Dutch ovens?  Or perhaps shut the oven sooner and leave until 210° or so internal?  Any suggestions on that elusive crust would be appreciated!