December 13, 2010 - 7:17pm
My 30+ year old recipe card says this is Swiss Egg Bread.  I have no idea where I got this recipe, and I have looked it up by name on the web and found many versions that are similar, but none that are exactly the same as mine.  I do know that, whatever it's true name, this is a wonderful bread.  It makes excellent toast, which is my favorite.  It is popular with the neighbors for sandwiches and for French Toast as well.  I have been baking it every year at Christmas time and giving it away, for 30 years, and it has been popular wherever I have sent it.  I won't try to defend the use of Crisco in this recipe.   I bake it as it was given to me, and we like it.  I'm sure other fats could produce acceptable results.  Try them if you are averse to Crisco, or welcome a challenge.
In the original form the recipe below was stated by volume, but I have successfully converted it to weight, and I get much better results than I did when I baked it by volume.  Also, it is a big recipe that makes four 9" x 5" pan loaves if you use the full measure.   The recipe is very reminiscent of Challah and has similar consistency, and while I have never baked this as a stacked-braid loaf I think it would do well that way.
Here is the recipe I use, as converted to weights.
SWISS EGG BREAD
Makes 4 large ( 9" x 5" ) pan loaves
                            WT (grams)
PART I - The Sponge
WARM MILK                    1044  (I use 1 quart of whole milk)
ADY                                           9
WARM WATER                    79
SUGAR                                   24
AP FLOUR                           468
PART II - Main Dough
AP FLOUR                            1300
MELTED SHORTENING      188 (I use 1 stick of Crisco)
SUGAR                                       95
SALT                                           12
LG EGGS (6)                           390 (You will have to adjust flour based, at least, on true egg size)
Method
Poolish:
Scald the milk, then cool to lukewarm
If using Active Dry Yeast: Disolve yeast and sugar in the warm water and allow to proof
If using Instant Yeast: Add sugar and water to milk and stir to disolve sugar
                                 Reduce yeast quantity by 20% and mix instant yeast into flour
Combine milk, yeast and flour mixtures and beat with a spoon or whisk till smooth.
Cover and set aside. Allow to rise until light, about an hour or so.
Dough:
Add main dough ingredients, holding back 150 grams of flour. Stir, adding reserved flour, until it
clears the sides of the bowl. When the dough becomes too stiff to stir, transfer it to a well floured
surface and knead in flour till dough is tacky but not sticky. Knead by hand until dough is soft and
smooth, about 10-15 minutes. Transfer to a lightly oiled bowl or dough rising bucket and
set aside to rise until doubled in bulk.
Shaping:
Divide dough into 4 equal pieces. Divide each piece into 3 equal pieces. Shape each piece
into a rough log. Go back to the first and roll each piece out into a rope about 14" long.
Braid 3 pieces into each loaf, making four loaves. Pinch the ends and tuck them under
and place each into a 9"x5" loaf pan prepared with your preferred release. Cover and set
aside to rise until doubled.
Baking:
Brush each with egg wash of 1 yolk + 1 Tbsp cold water.
Bake in 350F oven for 40-50 minutes, turning after 35 minutes to brown evenly.
Remove from pans immediately and brush tops liberally with melted buter.
Cool on a wire rack.
As I said, this is a big recipe, and it produces 4 big loaves like this: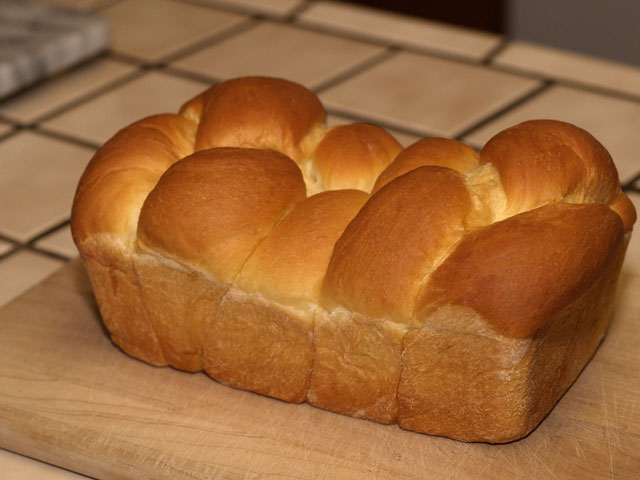 This bread has a very cake-like crust when you don't put too much flour into it, but it also keeps well.
Here is a crumb shot: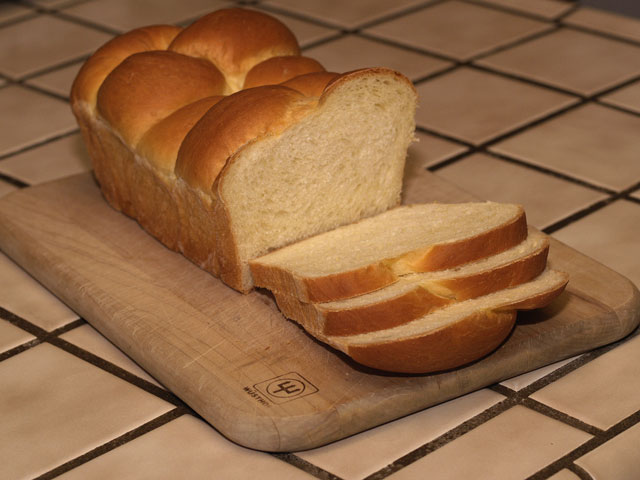 And this is a closeup of the crumb: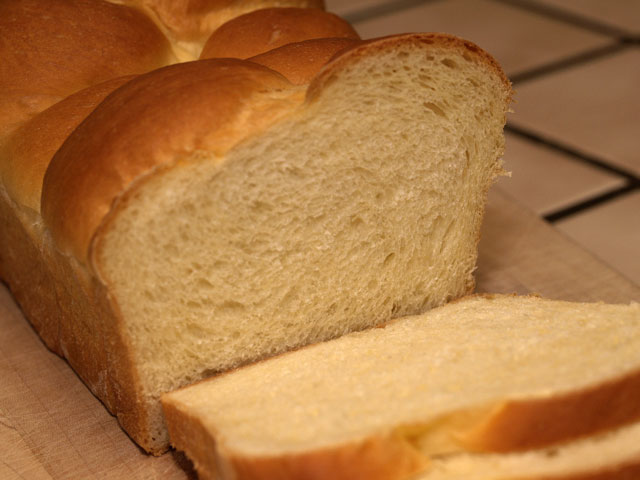 My personal favorite uses of this bread are for breakfast buttered toast with or without jam, and with cheddar cheese in a good old fashioned grilled cheese sandwich.
Enjoy!
OldWoodenSpoon