November 20, 2010 - 10:34pm
Shortbread Cookies ... in a hurry
Hello,

Fine Cooking magazine published an article and recipes for Shortbread Cookies a few years ago.
I really like their method which uses unsalted butter, cold from the fridge - a quick mix using a stand mixer, and you're baking in no time.

The quick mix keeps the dough cool; I've found the dough easy to roll out as a result. The finished product is always good! I make these cookies all through the year as a quick and easy 'gift from the kitchen', but I thought I'd post about them now as they are especially good at Christmastime and the holidays are fast approaching.
Here is a link to Fine Cooking's basic shortbread cookie recipe:
http://www.finecooking.com/recipes/classic-shortbread-cookies.aspx [1]
Here's their espresso version, dipped in chocolate!:
http://www.finecooking.com/recipes/-chocolate-dipped-espresso-shortbread-cookies.aspx [2]
The cookie dough is really adaptable flavoring-wise:
Brown sugar can be substituted for the white sugar listed in the recipe
Up to half-cup of other ingredients may be added (such as quick oats, finely ground nuts)
Citrus zest is a nice addition (lemon or orange, 1 to 2 teaspoons)
Flavoring extract (maple is good, can't see why coffee or other extracts wouldn't also be good!) 1/4 teaspoon


These are the Brown Sugar and Oatmeal version, with a bit of maple flavoring added, baked in a cast iron maple leaf pan: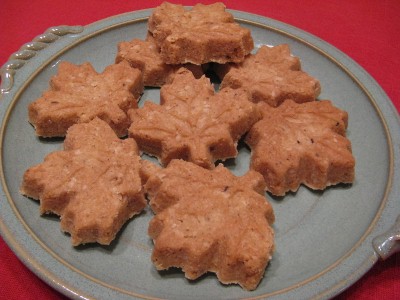 Happy baking everyone! from breadsong