November 18, 2010 - 10:46am
"Low-Knead" 100% Whole Wheat Boule
 
I have been following this site for a few months now and learning a lot.  I caught the "bread bug" recently and have been seriously baking bread at home since about April.  This is my first blog entry (ever, about anything).
One of my major challenges has been fitting the baking into my hectic work week and crazy weekends.  This receipe is one solution I have found.  It is 100% whole wheat and requires minimal "kneading."  The ingredients are as follows:
500 g whole wheat flour (King Arthur)
350 g water
3 tbsp honey
1/2 tsp instant yeast
1 1/2 tsp salt
My method takes about 24 hours, with all work done in the evenings (convenient for the work week).  The first night, I mix together the ingredients and stir vigorously in the bowl, using the handle of a wooden spoon as a "dough hook".  Then, using a dough scraper, I knead for a minute or two.  Over the next 90 minutes, I do three "stretch and folds" at 30 minute intervals.  Then, I let it sit overnight on the counter at room temperature (about 9 hours total).  The next morning, it's into the refrigerator until I'm home from work the following evening.  I take out the dough, form it into a boule, and let it proof until just short of doubled.
I bake the loaf on a stone with the oven preset at 500 degrees, and immediately turned down to 450 degrees, for about 40 minutes.  I pour one and a half cups of water into a roasting pan at the bottom of the oven for steam generation.
The result is some pretty good oven spring for a 100% whole wheat bread, and a fairly light, but still hearty crumb, slightly sweet from the honey.  While it lacks the large holes of a bread with more white flour, it was not at all dense.  See the shots below.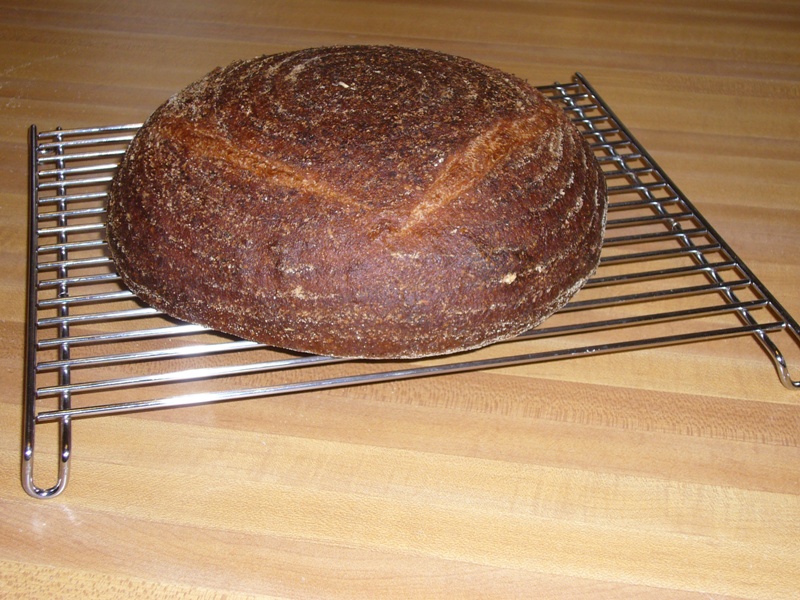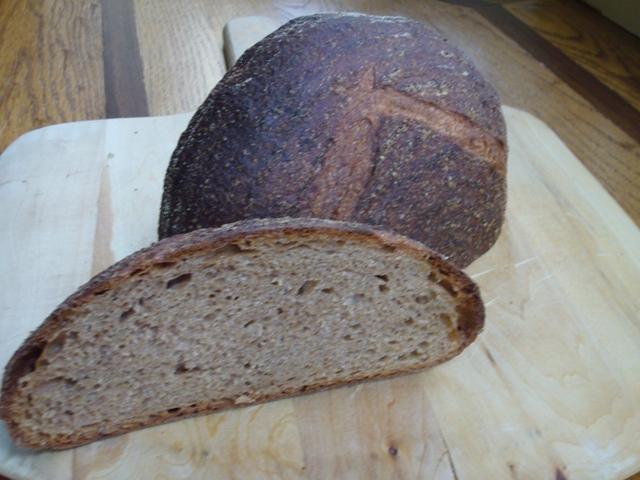 That's it for the inaugral post.  Cheers to all!