November 7, 2010 - 4:54pm
Hello, There is a recipe for Parisian Macarons in Advanced Baking and Pastry ("ABAP"), by Mr. Michel Suas, that looked like it would be interesting to try.
Quite by accident, I found this post today which points to many information sources regarding Macarons:
http://www.davidlebovitz.com/2008/09/making-french-macarons/ [1]
I didn't get past Mr. Lebovitz's first link to syrupandtang.com, finding all sorts of photos and helpful tips there:
http://www.syrupandtang.com/200712/la-macaronicite-1-an-introduction-to-the-macaron/ [2]
(this link is to the first page of a multi-page 'how-to' manual on macarons)
Another helpful post on TFL was from hansjoakim - http://www.thefreshloaf.com/node/18118/rye-and-macarons [3] (with thanks)

With all of this helpful information and a good formula in ABAP, I worked up the courage to try making these pretty little cookies.
I ended up using the formula from ABAP, scaled for the amount of macarons I wanted to try making.
I followed syrupandtang's instruction to process the almond meal and icing sugar together in the food processor prior to mixing, and took both syrupandtang's and hansjoakim's advice regarding a slightly hotter bake and baked about 350F (conventional).
I rigged my oven's contact switch so the oven would stay on with the oven door ajar.
I think this venting is really the key to the macarons baking but not browing. 

Here are pics of my first effort (a little lumpy and bumpy, but I'll hopefully do better next time!):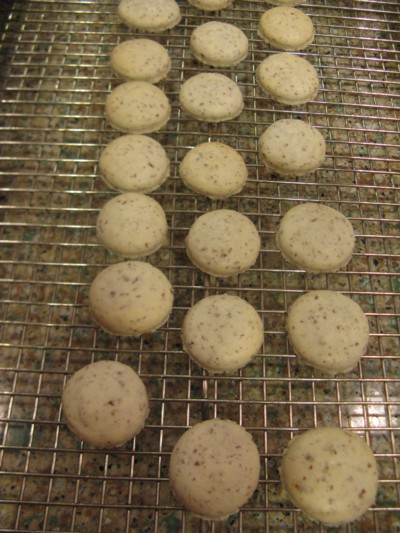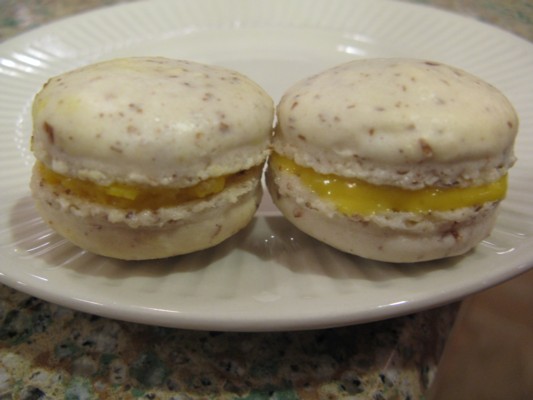 (almond macarons with lemon filling)
I wanted to post here, to say how much I liked Mr. Suas' formula, how kind of Mr. Lebovitz to provide all of those links, and to pass along links to the very helpful information provided by syrupandtang and hansjoakim, in case it's helpful to anyone else.

Happy Baking everyone!  Regards, breadsong