November 5, 2010 - 1:13pm
David's Vermont SD w/ increased rye ---response to cast iron bake
I have posted my cast iron bakes quite a few times over the past years . Seeing the new-found interest in Tartine and the cast iron bake I thought I would post my bake today to illustrate how well the "usual" sourdough responds.
This formula yields a very full flavored bread with a finish aroma that is rich and full of grain. The crumb is very tender and the crust is quite crisp. I love the caramel taste that a bold bake yields and this formula gives it back 100 fold. The bread has great keeping qualities...that is if no one is home  ! It goes very well with an aged cheese and a ripe pear, I just tried that combo a minute ago. It also makes wonderful toast. It has become my every week bake for a month or so. This particular batch retarded for 2 days , due to life intervening. It didn't make a huge difference in the sour but did increase the fullness of the flavor I think . Don't hesitate to retard an extra day or so. 
I use the word usual but David's breads are anything but as you know if you have tried his formulas. I have a very old cast iron covered pot that was my mother-in-law's and I have a Le Creuset . The pots are different sizes but the dough doesn't mind at all. The pots are preheated at 500 degrees for 30 minutes. They are sitting on my stone as they preheat. I remove them from the oven and uncover them, lower the risen loaves into the pots using parchment paper . I mist lightly with water and then place the lids back on the pots. I  place both pots back into the oven and lower the temp to 460. I bake for 20 min. covered and then remove the lids and bake 15 more minutes. I like a bold bake , you will note the caramelization. I have never had the bread burn or had any variation in the finish temp. I bake to 213 degrees or so and both pots give me identical loaves as far as shape/color/flavor/finish temp. etc. Here are some pics to illustrate. 
rising:
[1] slashed:
[1] in the cast iron pot:
[1] Le Creuset pot: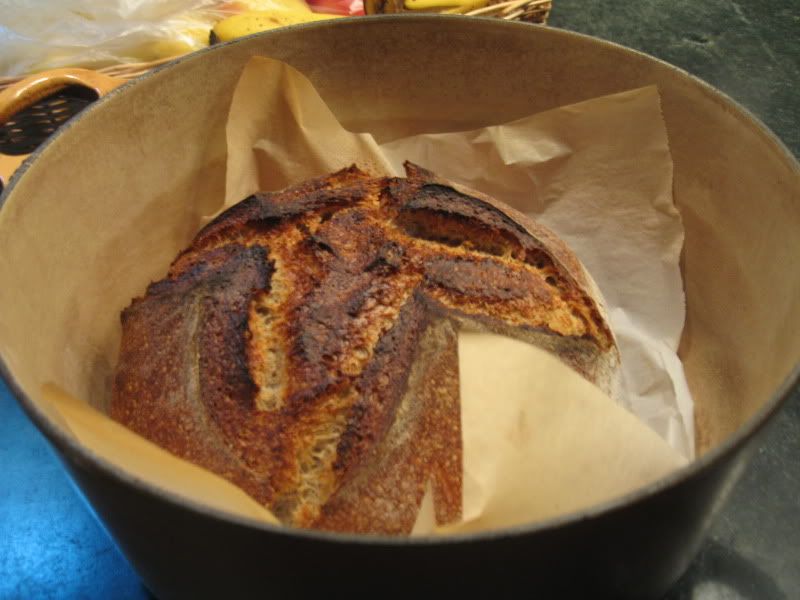 [1] finished product:
[1] crumb: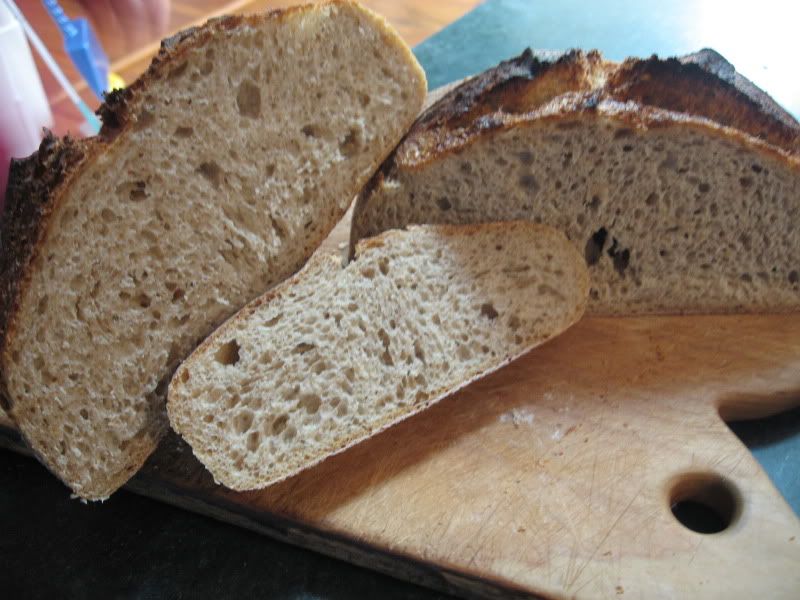 [1]