I have never been a big fan of pears. I eat only a few per year. But when I saw those I decided to buy a few. They were delicious. Their beauty inspired me to bake this bread.
Soaker:
453 g water

283g whole rye flour-stone ground 453 whole wheat flour
 Mix the flours and water until the dough comes together and you have a sticky mass and put the container in the refrigerator for 12 hours  Starter: 125 g water 125 g whole rye flour 25 g whole rye starter
Final dough: all soaker from refrigerator 255 g starter Mix the ingredients (it's not easy) and let rest 30 minutes.
Add salt work it through the dough. Let rest 30 minutes. Fold the dough and let rest 30 minutes. Repeat the procedure once more.
Allow the dough to ferment for 4 hours at room temperature.
Shaping:
Flatten the dough into a disc, put 100 g of pistachio nuts (toasted, salted) and pear cut in to pieces. Fold in each side, and then the bottom. . Turn the dough over and shape your pear. Try to shape thick neck to prevent from burning during baking. Use XL raisin or dried plum to make stem end of the pear. Place the pear on peel with parchment . Cover with plastic to avoid drying the dough.
After 3-hour proofing preheat the oven to 500F with a.baking stone. Prepare 1 cup of  hot water for steaming.Score the loaf.
Bake:
15 minutes-480 F
15 minutes -450F
Remove  the parchment, cover the bread with foil (it's brown enough) and bake 10 minutes in 400F.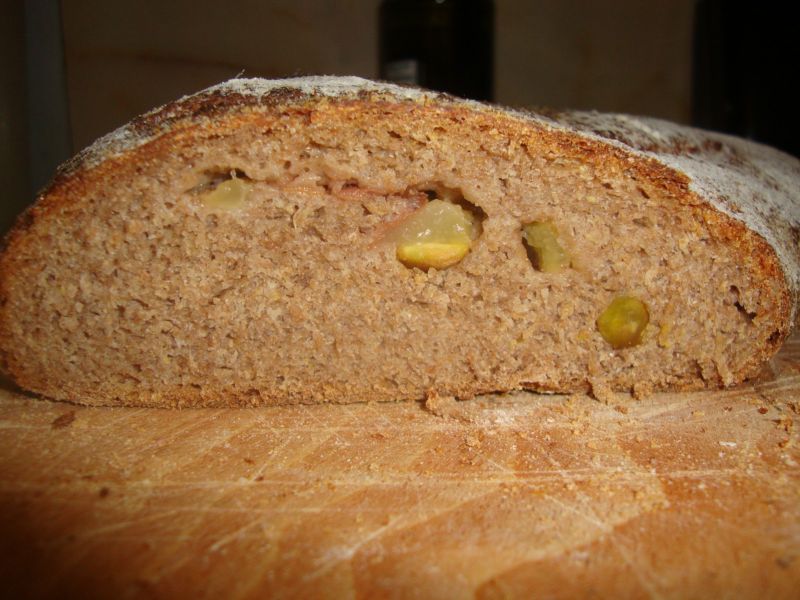 Adapted from the recipe from: 
Discovering Sourdough
[1]
 and inspired by 
http://www.wildyeastblog.com/2010/01/31/pear-buckwheat-bread/
[2]