February 13, 2007 - 9:13am
loving to learn - wholemeal and rye experiments
Haven't had time to draw breath recently let alone sit and browse so being on holiday (finally) today has been a real treat - time to enjoy what everyone has been up to, follow some of the threads and finally update my photobucket and blog.
I decided at the begionning of January to concentrate for a while on slow rise tin breads and focus on crumb when working with "heavy" ingredients eg rye, wholemeal and seeds without resorting to oodles of yeast. So a good trawl through the back comments (and particular thanks to Qathan for a rye bread recipe using a rye and a bread flour starter mixed) which gave lots of ideas on proportions and methods.
Nothing too revolutionary but making a starter with only an eighth of a teaspoon of yeast left for 12-18 hours and then only 7/8 tsp yeast with flour etc to make as wet a dough as I can manage - maybe 70% hydration, no extra flour to knead (wet hands) and a shortish final rise to 60% increase NOT doubled for better oven spring.
Although I have made most of these breads before I am really pleased with how modifiations to my technique have improved the resulting loaf even after only a few experiments.
My photography isn't up to much (despite a lovely christmas gift) but maybe this shows what I mean:
Before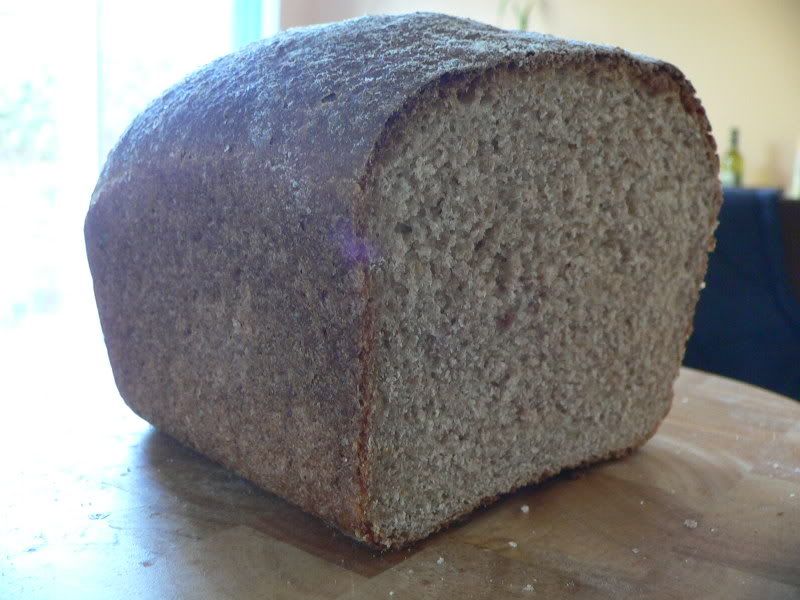 After
The recipe is basically Floyd's honey wholewheat but the crumb is defineltey lighter and "holey" in the "after" picture - actually more like white bread in comparison to most 100% wholewheat breads. Also it slices thinly REALLY well. THis dough was a liitle too slack hence the odd oven spring (the rye below was a tiny but firmer)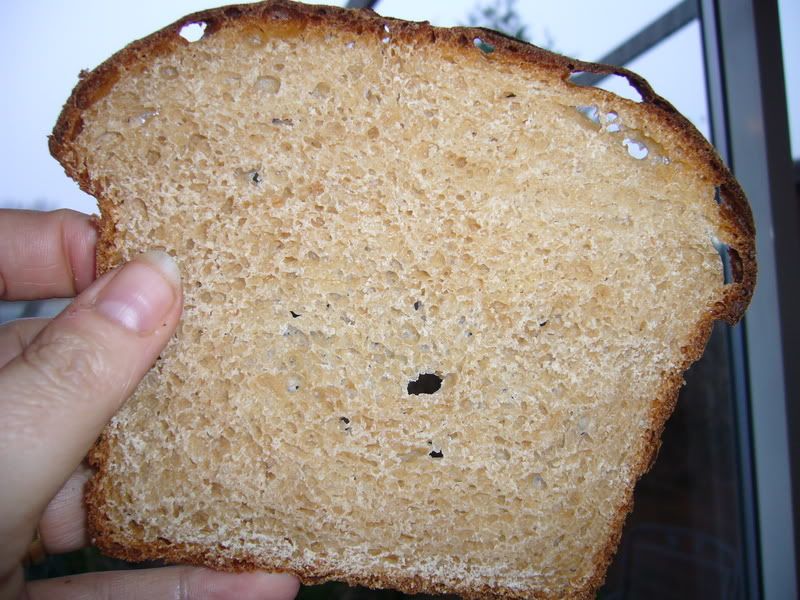 My husband prefers the light rye - about 25% light rye and 65%/10% wholemeal/white spelt as he says the honey wholemeal is too sweet. The oven spring was HUGE - a 2lb loaf in front of a 6 kilo sack of rye flour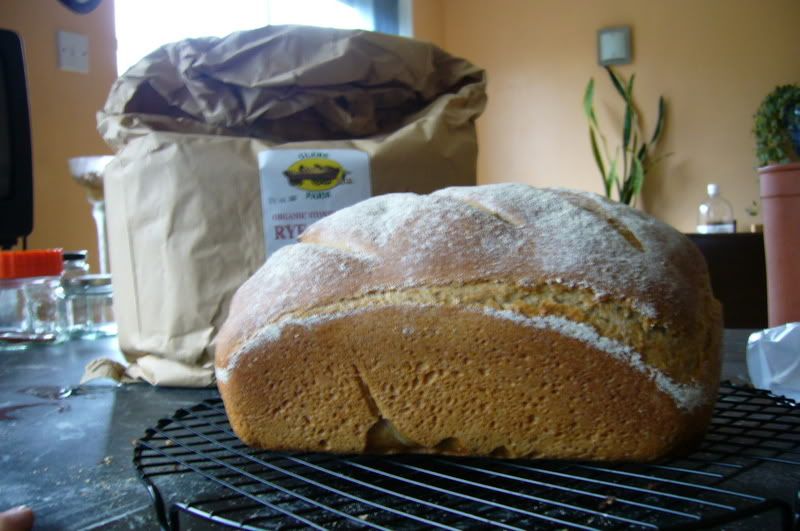 No pictures of the crumb there (sorry!) but I will finish with this - a traditionally tasty but "solid" 100% wholemeal seed bread (this one has linseeds, rapeseed oil, sesame and sunflower seeds and currants) that is amazingly light by my usual standards!
I have been told that my fan oven is drying out any steam from a bottom pan of water too quickly and it is the dough's internal water that makes the difference to the crumb and crust. I wonder how wet I can get?!