September 27, 2010 - 4:34pm
Procrastinator's Sandwich Bread
Necessity is the mother of invention (or at least tweaking), right? It certainly is around here! I came to TFL (naturally) to find a solution to my problem: there was no more sandwich bread in my house. This is about as big a problem as no running water. My middle child is addicted to peanut butter sandwiches, and since she has a limited number of "healthy" foods she likes, we encourage her to eat them. (She's autistic; trying to get her to eat food she doesn't like/want is... well, next to impossible. Frankly, I'm just happy she eats anything but hot dogs and fruit snacks.) My usual recipe takes 4-5 hours, depending on the temp of my kitchen that day, and that just wasn't gonna cut it today. I needed something fast and simple.
I did a search for "basic white sandwich bread" and came up with a bunch of results, but near the top of the list was this [1] post, with its GUMP Bread recipe. It had no comments, so no tried-and-true reviews or try-this adjustments, so I took it entirely on faith. The list of ingredients looked right, in proper amounts for a high-hydration sandwich loaf, so I figured how bad could it really turn out?
I made some adjustments for personal preference... butter for oil, regular milk for powdered milk and water, and flax seed for wheat germ. That last because I'd run out of wheat germ, not because I have something against it. And because I didn't have smaller loaf pans, I decided to make it all one loaf in my rockin' huge 9x5 Paula Deen stoneware loaf pan. These things are wicked deep and heat so evenly... I love them. I really do. And I thought to add vital wheat gluten because I'd heard it makes white bread do something interesting. (Very scientific, I know. LOL) So once I'd settled on all my ingredients and my loaf size, etc., I set about actually making the thing...
Procrastinator's Sandiwch Bread
.25c butter
2c 1% milk
2tbsp granulated sugar
2tsp kosher salt
5c bread flour
4tsp instant yeast
1tbsp vital wheat gluten
2tbsp ground flax seed
more milk for brushing
1tbsp 7-grain cereal
Melt butter in microwave in a large measuring cup or bowl. (1 min on HIGH for me.)
Add milk and heat to lukewarm. (1 more min on HIGH for me.)
Add sugar and salt and stir to dissolve.
Combine flour, yeast, gluten, and flax in a large bowl/the bowl of a stand mixer.
Add liquid and mix to "shaggy mass" stage.
Knead by hand or mixer until elastic. Dough will NOT clean bowl or form a ball; this is fine.
Let rise until double, about 30 mins.
Shape into a loaf, and put in greased 9x5in pan.
Preheat oven to 350F; let dough rise 20-25 mins.
Brush with milk and sprinkle 7-grain cereal on top, then score loaf as desired. (I always do mine diagonally, corner to corner.)
Bake for 25 mins uncovered, with steam, then cover with foil and bake another 20-35 mins, until internal temp is 190F.
Now, since I really like how this turned out texture-wise, I intend to try cutting the yeast to about 1tsp, maybe 1.5tsp, and do an overnight rise in the fridge. Or somewhere else equally cold; this is Michigan, I'm sure I can find somewhere to put it this time of year! I think it'll really improve the flavor. But then it wouldn't be a procrastinator's bread, it'd just be a tasty sandwich loaf. I think I'm okay with that. ;)
Edited To Add: the pictures I completely forgot about...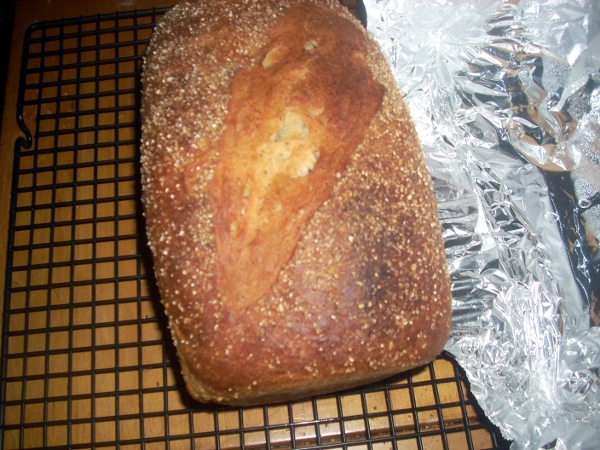 Nevermind the foil. I like softer crust, so I let the loaf steam itself soft-ish for a few.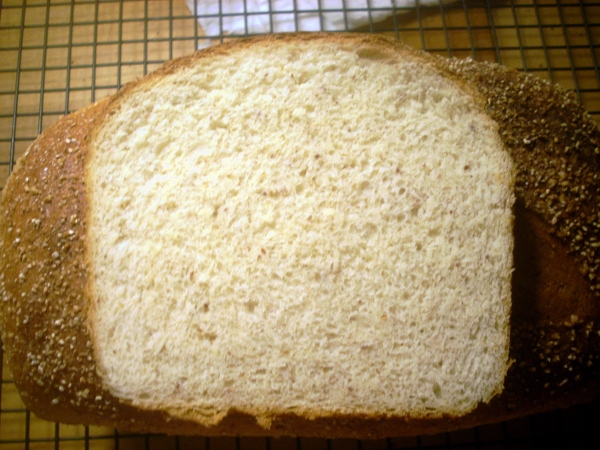 Crumb shot. It's very fine and tender, but it still has more flavor than that crappy Wonderbread. :P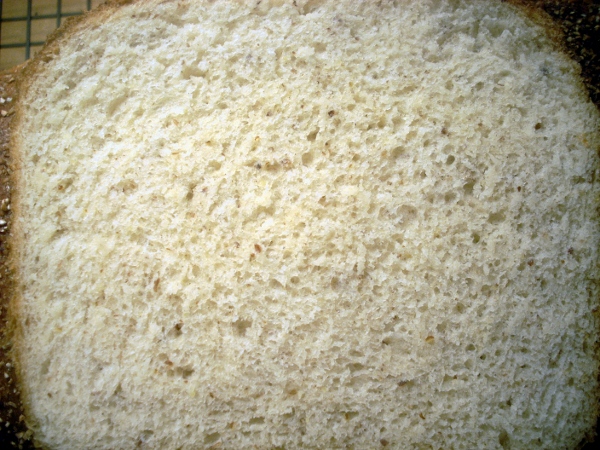 Crumb close-up.