September 26, 2010 - 2:04pm
I saw a recipe for Bath Buns--a traditional sweet, glazed bun from Bath, England--in Richard Bertinet's "Crust." The buns looked rather like the baked char siu bao of dim sum, so I thought I'd tart up the traditional dim sum dish with a higher-end bun. 
The result was eerily reminiscent of the dim sum dish--I'm now thinking that the dim sum dish is likely a descendant of the Bath Bun (by way of the British in Hong Kong). Any food historians out there? According to Google, I'm the first to advance this poorly supported theory. Anyhow, onto the baking...
The results: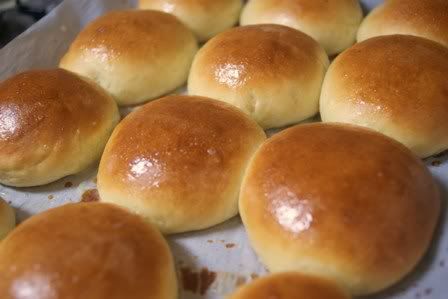 Bath Bun recipe adapted from Bertinet's "Crust" (I only had soy milk on hand, and no fresh yeast, so I fiddled a bit)
Preferment:
125g bread flour
125g water
2 g active dry yeast
Dough
4g active dry yeast
375g bread flour
113g butter (1 stick0
75g sugar
150g unsweetened soy milk
2 eggs
7g salt
Glaze:
150 g soy milk
75 g sugar
Night before:
1. Mix preferment together. Let rest for 90 minutes.
2. Mix preferment + dough list. Knead until smooth (it's soft and sticky, I used this technique [1].) Fold/tuck dough, rest in greased bowl for 1 hour.
3. Make filling (below). 
4. Press out dough, tuck into ball. Place in greased bowl, Cover. Refrigerate
Morning of:
1. Divide dough into 12 parts (approx 75 g). 
2. Press out dough on lightly floured surface. Put 1 heaping teaspoon in center. 
3. Place in palm of hand. Pinch together into ball (4 pinches should do the trick: 1. Pinch top to bottom. 2. Pinch left to right. 3. Pinch top left to bottom right. 4. pinch top right to bottom left.)
4. Place seam-side down onto parchment lined baking sheet.
5. Cover, proof till doubled in size (2 hours).
6. Preheat oven to 375.
7. Make glaze: dissolve sugar in soy milk on stove top.
8. Glaze buns. Put in oven for around 20 minutes, till they look scrumptious.
9. Glaze buns again while warm. I'm generous with the glaze--the bun should be sticky.
The filling:
1/2 lb boneless pork country-style rib
3 tb hoisin sauce
1 tb ketchup
2 tb water
1 teaspoon onion powder
1 teaspoon five spice powder
1. Slice pork into 1/2 inch strips.
2. Marinade in 1/2 of the marinade for an hour.
3. Roast for 15 minutes at 350, glaze with remaining marinade, and finish for 5 minutes under broiler.
4. Cool in fridge overnight.