September 17, 2010 - 10:19am
Weeknight Sourdough Hamburger Buns
I wanted to have fresh homemade sourdough hamburger buns for a big cook-out last Friday. Problem: the cook-out was at 7pm on a work night, and I'd only get home around 5:45. Timing and fridge space were issues. I wouldn't have time to shape buns and let them rise after work, and don't have room for sheet pans in my fridge (I live with 4 other people). This is what I came up with...
Petite Sourdough Hamburger Buns (makes approx. 20 3'' buns) (adapted from this recipe [1])
Ingredients:
[UNDER REVIEW]
Night before:
1. Mix together bread flour, starter, water. Let sit for 30 minutes.
2. Beat together milk, eggs, salt, sugar. Combine with flour. Let sit for 15 minutes.
3. Lift/fold dough. Repeat twice more at 15'' intervals.
4. Cover, let dough rise overnight.
UPDATE: Brewboy makes a good point re: the potential riskiness of letting a dough with egg in it stay at room temp overnight. 
Morning of:
1. Divide dough, shape (20 or so) buns.
2. Place in cake pans lined with parchment paper, cover with plastic wrap.
3. Stack cake pans in fridge with cardboard in between to prevent squishing.
Go to work!
Evening of:
1. Remove from fridge, let rise in 100F oven for 30''.
2. Brush buns with egg wash.
3. Crank up the heat to 350, bake for 35 minutes. (Note: no preheating, thus the extended baking time)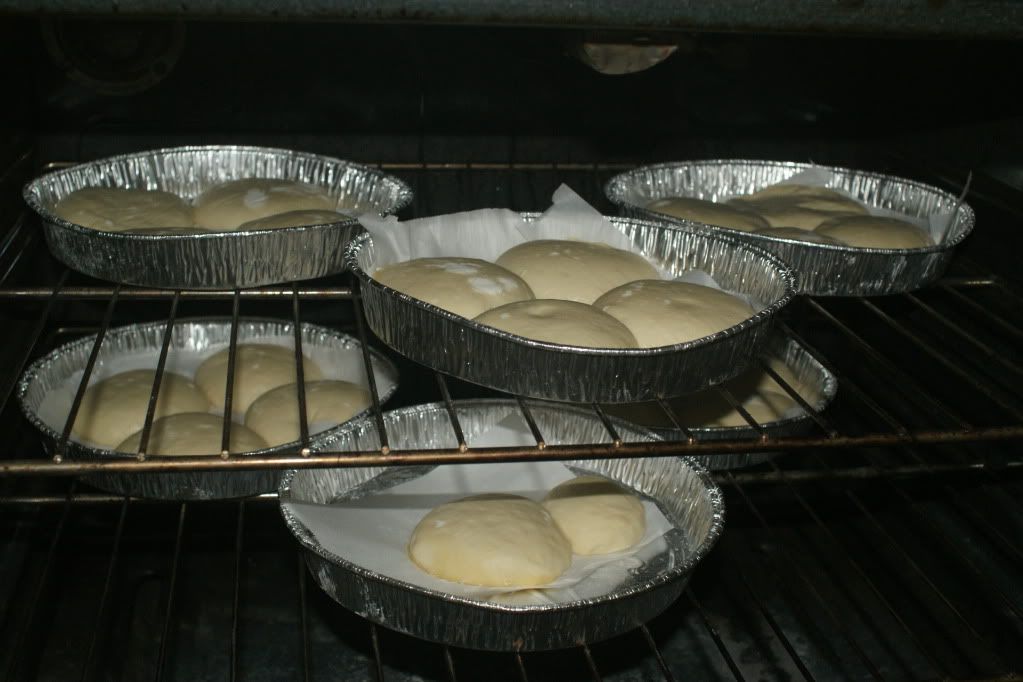 The results:
Soft, chewy, tangy hamburger buns! I was happy, as were the guests. I was worried they'd be too small but they were the perfect size for 1/2lb (before cooking) patties made from fatty (70/30) ground beef. One thing I would change was the topping I made for the burger--it was a sweet/sour onion caramelized with bacon fat. The burgers would have been better with a straight sweet caramelized onion, since the bun provided ample tanginess.