September 14, 2010 - 4:57pm
9/13/10 - Pain au Levain in a Pan
Hi All,
So I was up really late waiting for some Pain au Levain to rise...  Maybe a little too late, which is why I don't feel so hot right now and should be getting to bed early...  Way, way before 2:00am like this morning...  Anyway, just wanted to share with you some Pain au Levain in a pan that I baked very late last night...  They turned out really well, but I should have used smaller loaf pans...  Enjoy!  Recipe and method will follow the pics and the obligatory crumbshot...  Also, this recipe was inspired by one of the Pain au Levain recipes in Le Pain, l'envers du decor by Frédéric Lalos.
Tim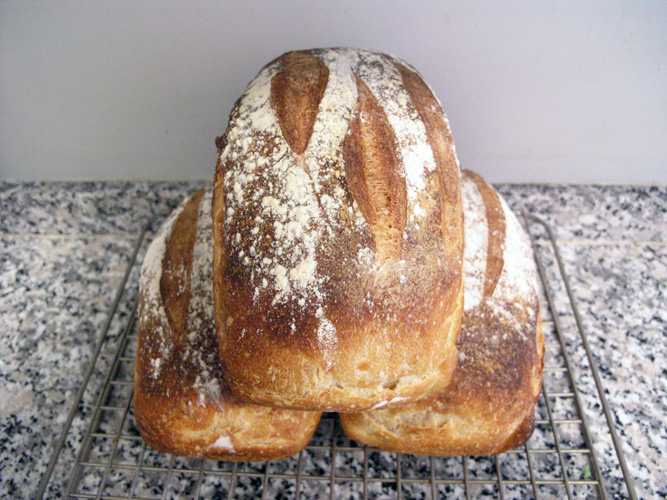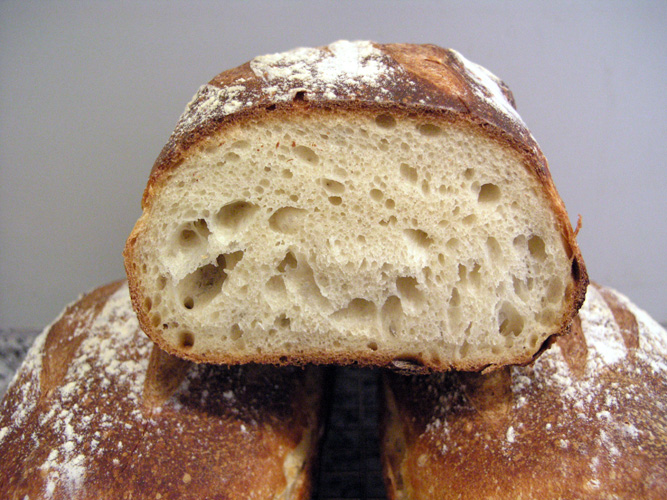 Ingredients:
Final Dough:
1110g AP (KA)
555g Stiff Levain (63% hydration)
700g Water
38g Kosher salt
2400g Total Dough Yield (approx)
Stiff Levain
304g AP
192g Water
60g Sourdough Starter (I used a stiff one)
556g Total Stiff Levain Yield
Method to the Madness
9/12/10
3:50pm - Mix stiff levain, place in covered container, let rest on counter.
430pm - Place stiff levain in refrigerator.
9:13/10
6:50pm - Mix final dough in large bowl using a large rubber spatula, plastic scraper, wet hands.  Knead for 5-10 minutes.  Cover bowl, or place in plastic bag and let rest.
7:30pm - Knead dough for 2-3 minutes in bowl with wet hands.  Do not add any extra flour.  Cover and let rest.
7:45pm - Turn dough, cover and let rest.
8:45pm - Line loaf pans with parchment paper, or grease them if you like.  Divide into 3x800g pieces, and shape into loaves, place into pans, place pans into plastic bag, proof for 4 hours.
9/14/10
12:00am - Place baking stone and steam pan in oven, preheat to 500F with convection.
1:00am - Turn convection off.  Lightly dust loaves and slash as desired, place into oven on stone.  When all pans are in oven, pour 1 cup of water into the steam pan, close door.  Turn oven down to 450F and bake for 45 minutes.  Halfway through bake, remove loaves from pans and return to oven and place directly onto stone.  Turn oven down to 425F for remainder of bake.  At end of baking, check internal temp and weight loss.  Should reach 210F and lose approx 15% weight.  Turn oven off and put loaves back in for another 10 minutes.  Cool completely before cutting and eating...  Also, get some sleep...