August 29, 2010 - 12:40am
First Sourdough Starter - Mike's Way
I introduced myself in this post http://www.thefreshloaf.com/node/19278/hello-new-baking-some-pictures-posted [1] As mentioned in that post, I am new to baking.
After reading most of Mike's www.sourdoughhome.com [2] website, I commenced making my first sourdough starter yesterday! I opted to use 'Mike's Way' because I could not source for any malt extract which is required for Prof Calvel's method, which is Mike's preferred starting a starter method.
Am posting the step by step pics of my starter (and hopefully all the way to a successful sourdough loaf) here to get feedback from all you more experienced bakers, and also for the benefit of the community at large.
Let's go!
I mix 50 grams wholewheat flour to 50 grams into a small container. Below is what I get. The scale is not so clear in the picture, but it reads about 75 grams.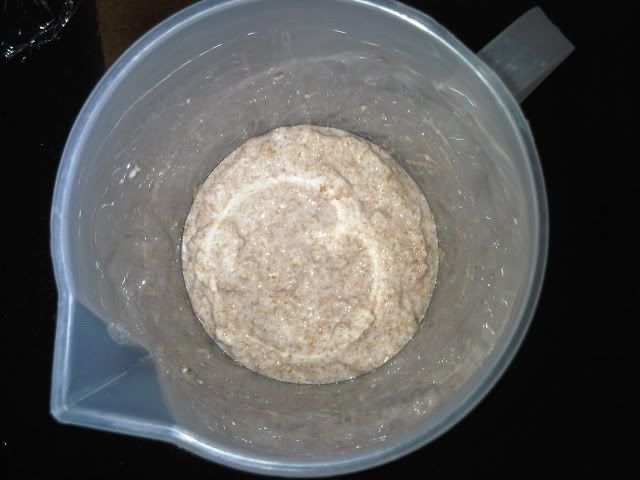 I then kept the container in a shaded and cool area of my kitchen. Now, being in Malaysia which has a tropical climate, the ambient indoor temperature is a humid 25-26 degrees celcius (78 degrees fahrenheit). Outside, it's like 32 degrees celcius.
I should have checked, but did not, after 12 hours. Instead, I checked at 24 hours and got the below.

Now, at this point of time, the starter smells HORRIBLE! I am beginning to wonder whether this will ever be edible. The smell makes me want to throw up. Seriously bad smelling. Not sure what it smells like. Can't describe it. Rotten and alcoholic is my best description. But lots of fermentation bubbles, and the volume has more than doubled to around 230grams. So I persist anyway.
I add another 50 grams of water and stir. Then 50 grams of the same wholewheat flour and stir. And I get the below:

Will keep you guys posted! Comments welcomed.