August 28, 2010 - 11:46am
*Updated 4/16/11 for a sourdough variation (below) 
*Updated 5/29/11 for a spelt variation (below)
Hello,
I love to make muffins, using the recipe featured in Fine Cooking Magazine #77. Fine Cooking's information is also available as an interactive, create-your-own-recipe web tool at:
http://www.finecooking.com/cyor/muffins.aspx [1]
After using the selection tool to choose your ingredients, the recipe will display.
I find this one-pound-of-flour-based recipe makes 12 large, crown-topped muffins using crown muffin pans. I have two 6-cup crown muffin pans that I purchased from Williams Sonoma, but they don't sell them any more. Chicago Metallic makes a 12-cup crown muffin pan, but I'm not sure how widely available it is (a restaurant equipment might be another option for these crown muffin pans?). Here's a link to Chicago Metallic's website:
http://www.cmbakeware.com/products/large-crown-muffin-pans [2]
Here's a better picture of a 6-cup crown muffin pan (compared to what's shown on the Chicago Metallic site):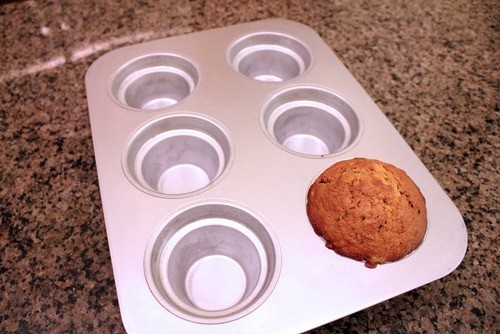 A single, one-pound-flour recipe will also make 72 mini-muffins (using Ecko Baker's Secret mini-muffin pans), with a little batter left over.
I bake for about 14 minutes.
There are so many ways to flavor these muffins, using whatever fruits, nuts, spices etc. you have on hand.
I have also varied the base muffin batter with good results: 
- Oatmeal muffins: combine 10 ounces flour, 6 ounces quick oats (by weight) in a food processor and process until fine; substitute for the 16 ounces flour in recipe
- Banana muffins: use 1.5 cups mashed banana, ¾ cup sour cream, 5 ounces (by weight) vegetable oil and substitute for milk, sour cream and butter called for in recipe; substitute brown sugar for white sugar
- Pumpkin muffins: use 1 cup pumpkin puree, 1/3 cup sour cream, 2/3 cup milk and substitute for milk and sour cream called for in recipe
- Chocolate muffins: substitute 76g of flour called for in recipe with cocoa
- Orange muffins: substitute 1.5 cups sour cream and ¾ cup orange juice for milk and sour cream called for in recipe; reduce butter to 2 Tablespoons; increase orange zest from 2 teaspoons to 1/3 cup
- Applesauce muffins: I simmered ¾ cup chopped dried apple in 1 cup apple cider until the cider was mostly absorbed and reduced (about 15 minutes), and when cool drained and used in place of fresh apple. I used chunky applesauce (made with Transparent apples - so tasty) in place of the sour cream. I added the remaining reduced liquid from simmering the dried apples too for extra flavor. I reduced the sugar to 1 cup as the applesauce had been lightly sweetened.
- I've substituted buttermilk for regular milk if I've had buttermilk on hand.
I make about half the amount of glaze and I find it's enough for my taste. A streusel topping or spiced sugar sprinkled on prior to baking are also good too. Cream cheese (sweetened/flavored) is a great topping too. Here's a picture of a Pumpkin muffin (trying to be a "Starbucks" muffin), baked in the crown muffin pan:

*Updated 4/16/11: Sourdough Carrot Muffins (with coconut, pineapple and walnuts)
Floyd posted about sourdough carrot cupcakes [3] awhile back - they looked absolutely lovely!
This got me thinking about the possibility of a sourdough muffin.

Here's my adaptation of the KAF Sourdough Carrot Cake recipe [4], for muffins, and a picture of how it turned out: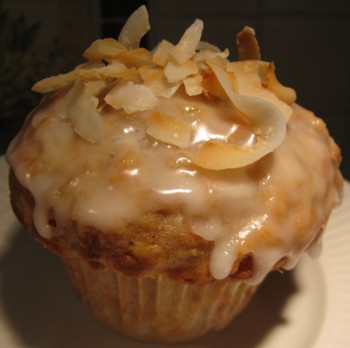 Sourdough Carrot Muffins (with coconut, pineapple and walnuts)
(makes 12 muffins using crown muffin pans)
Line muffin pans with baking paper; spray lightly with cooking spray.
Preheat oven 325 convection. Put a handful of shredded or ribbon coconut on a baking sheet and toast lightly (watch carefully - mine toasted in only 3 minutes). Remove from oven and set aside to cool; the toasted coconut will be reserved to garnish the muffins after baking and glazing.
Preheat oven to 350F.
Grate 2 cups of carrot.
Drain a 14-ounce can of crushed pineapple (reserve juice).
Chop ½ cup of walnuts.

In a large bowl, whisk to combine:
330g all-purpose flour
½ teaspoon salt
1 teaspoon baking soda
1 teaspoon cinnamon
a few grinds of fresh nutmeg

In a separate bowl, whisk to combine:
9 ounces (by weight) of 100% hydration white sourdough starter
2 large eggs
1/3 cup sour cream
1 cup sugar
1/3 cup (packed) brown sugar
2 teaspoons pure vanilla extract
5 ounces (2/3 cup) vegetable oil
Add to wet ingredients: 
2 cups grated carrot
drained crushed pineapple
½ cup chopped walnuts
½ cup sweetened shredded coconut
Stir the wet ingredients and carrot, pineapple, walnuts and coconut together, to combine.
Add wet ingredients to dry, and fold gently with a rubber spatula just until dry ingredients mostly moistened. You may still see a few streaks of dry flour.
Using an ice-cream scoop, fill the muffin pans.
Bake at 350F for 25-30 minutes, or until done. Rotate the pans partway through the bake, if needed, for even browning.
When finished baking, remove from oven and place pans on a cooling rack.
Let muffins cool, in the pan, for 10-15 minutes.
While cooling, mix up the glaze:
1 cup approximately - sifted icing sugar
a (tiny) pinch of salt
2 Tablespoons reserved pineapple juice
a capful of Malibu coconut rum, if you so desire!
(adjust consistency as needed to achieve a spreadable glaze)
Remove muffins from pan and place on cooking rack.
Using a pastry brush, glaze the tops of the muffins.
While glaze is still wet, sprinkle on toasted coconut.



>
*Updated 5/29/11: Spiced Spelt Muffins with Anise, Fennel, Blueberries, and Hazelnuts 

Karin posted about her Dinkel-Walnussbrot [5], a spelt bread flavored with anise, fennel and walnuts.
This bread is so delicious with the spices; these muffins are based on the flavors in Karin's wonderful bread: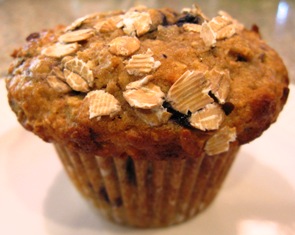 Ingredients used:
6 ounces spelt flakes, ground in the food processor
10 ounces whole spelt flour
4 teaspoons baking powder
1/2 teaspoon baking soda
1/2 teaspoon salt
1-1/3 cups brown sugar, packed
1/2 teaspoon anise seeds, crushed with mortar and pestle
1/2 teaspoon fennel seeds, crushed with mortar and pestle
2 eggs
1 cup (242 grams) sour cream
1 cup (242 grams) milk
5 tablespoons butter, melted and cooled
1 generous cup frozen blueberries
1 generous cup coarsely chopped hazelnuts

Happy baking everyone!  Regards, breadsong