Into the Pot with You: Call for input on crust
Good Morning All:
There has been good discussion recently in the Sexy Baguette Forum about steaming. This is an appeal for those of you who have mastered steaming to weigh in, because I am confused after plowing through so many articles and posts on the topic.
I seem to recall Jim Lahey saying bread needs steam over 75 percent of its baking time. (Am I correct on this?) And in his pot bread recipe, however, his advised 30 min lid on, 15 minutes lid off formula translates to 66% steaming time. I don't want to to get hung up on numbers, but my experience is that under this 66/33 regime, the crusts of my pot breads are invariably excellent, but a bit too thick and tough to be called perfect---to my taste that is.
 As I mentioned in my Sexy Baguette postings, I have had nice success getting thinner, more flexible baguette crusts by doubling up on the water I use for steaming, and bringing down both the baking temperature (by 20 degrees, to 455 from 475) and the temperature of the water used for steaming (I now have settled on room temperature water as opposed to hot or even boiling water).
My question therefore is: if I wanted to get thinner, less tough crusts in my pot breads, what do I do? Help please.
For context, I am enclosing three pictures illustrating the results I get typically using a long cold ferment, minimal handling, and steady 500 degree temperatures, under the 30/15 minute regime.
PS: The eagle-eyed TFL-er may notice in the bottom picture that, barely discernible, are three different "layers" of dough. This came about because I threw three separate pieces of dough into the pot (don't ask why), one on top of another. The result, however,  shows how careless --slap-dash, even---you can be about "shaping" this type of bread, just as Lahey suggests in his earlier video.
It takes an extra- sharp knife to cut through the bottom crust! But the crumb is grand.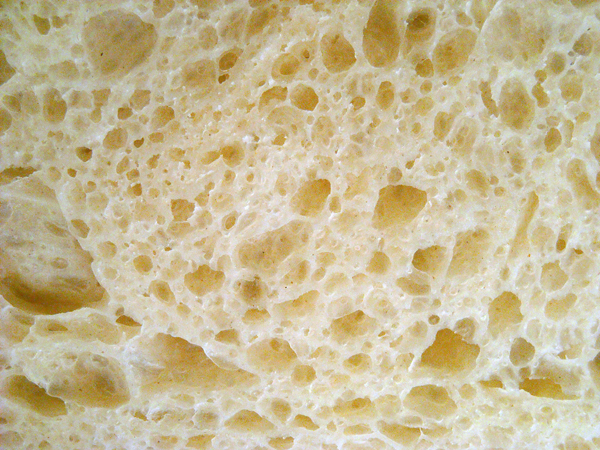 I am pleased with the crumb structure.
Here again, great crumb (If I do say so myself), but too thick & too tough in the crust.