Update:  3/1/2011
I haven't been satisfied with my old version sandwich bread because I smell strong yeast in the bread and the loaf was dry quickly. I have been working on my recipe to improve.  This sandwich loaf is my favorite.  I hope you will like it too.
Japanese sandwich bread
To avoid to have strong smell of the commercial yeast, I decreased down to 0.9% as to 100% flour.
Ingredients:(Pullman:23cmx10.5cmx10cm)  (The height after baking : About15cm)
●Active dry yeastー 4g
●Water  ( I use  40℃ water in winter) DDT 26℃ 225g
●Egg yolk (1)+Whipping cream 80g
●Sugar 20g
▲Bread flour (King Arthur )450g
▲Salt 6.8g
Butter (Soften) *Adding it in the last*  30g
1 
Put "●" ingredient from the water, the egg yolk, the whipping cream and the yeast in the container and mix well --> Let it rise for 10-20 minutes until fermented:  The top: After mixing The bottom : After 10 minutes ( It is ready to goto the next step)
3 

Add the butter when the dough is well combined.   * It may not rise well if you add the butter in step "2"
4 
Knead from the center out in every direction for 10-13 minutes. You might need some water to moist the dough to make strong gluten.
6 
Put the dough in the big container that is coated with oil . Bulk fermentation 1.5 -2 hours at 15-19℃ (2.5 times volume )
7 
Punch down lightly- Divide it into two. Make 2 round bowls --->Cover it with saran wrap that is coated with oil. Or you can put the dump towels on it.-----> Bench time 30 minutes.
8 
Sprinkle the flour ( 50% all purpose flour and 50% rice flour) on the surface very lightly, Flip the dough over , flatten the dough to make oval shapes using a rolling pin.  Don't flatten the dough with your hands that will more likely to have a big holes on the top of the loaf.
12 
Flatten the dough with your hands.
* Check the top and the bottom width before rolling. Roll from the side is narrower.
18 
Bake Preheat 226℃ OR 438F
Decrease 210℃ OR 410F and bake for 35 minutes or until golden.
19 
20 
Put some butter on the top of the loaf, place it on the rack to cool.
* I recommend you to slice the loaf as soon as it is cool completely, then put it in a freezer that will keep fresh.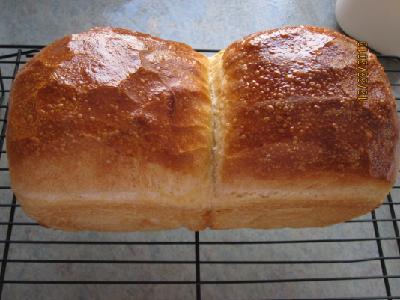 * I don't recommend to put some egg wash, water, milk on the loaf before baking. ?---> It may have difficulty to take the loaf out of the tin because of the liquid work as a glue in the tin. 
-----------------------------------------------------------------------------------------------------------------------------------------------------
This is the old version. You can use the loaf pan using the parchment paper to make a  tall loaf.
 I didn't have a loaf pan with lid that has 10cm height and I had been admiring to bake a taller bread for a long time.( I bought the pan with lid several months ago FINALLY!) But I still use this USA loaf pan yet.  I think that somebody like me who might want to make a taller one. And, It is very soft and stretchy?( I don't know how to describe, but it is not cakey, it has strong volume.) My family and neighbors really love it.
 Sandwich brea [1]d  ( USA loaf pan  23cm x 13cm x 7cm) It will be 10-12cm height after baking. This picture's is 11cm. Sorry, 13cm height was wrong that I  commented below.
[1]
Ingredients
Active dry yeast  

5g

Warm water

180g

Sugar

20g

1 Egg yolk  (L)+ Heavy Whipping cream=

*To warm up :10seconds in a microwave using normal mode.

70g

All purpose flour or bread flour

380g

Salt

6g

Butter

*To soften: 20 second for microwave using defrost mode.

20g

*Butter for brushing after baking(Optional)

 
#I always use all purpose flour  
1. [2]
Put Active dry yeast, warm water, and sugar in a small bowl. Set on the side.
2. [3]
Left= Put all purpose flour, salt in a large bowl and mix. Left=Put egg yolk + whipping cream in a small bowl and mix.
3.Put flour + salt and the yeast mixture  and the egg yolk mixture in Food processor. Run for 1 minutes until combine.
4.
[4]■Add butter and run for 30 second until combine. *Scrape the dough with a spatula, and  take the dough out of the food processor and knead by hand. ( push it down and stretch, and fold) instead of using a spatula.
*  These are the double same sentences but I couldn't erase the sentence on the next comment I added to fix. ( Sorry)
5 [5]
■Repeat 4 about 15 minutes in total until the dough is stretchy and shiny.
6. [6]
■Take a look! This is very important to have a loaf which has strong gluten.
7. [7]
■Put some shortening on a large bowl, and place the dough in. Proof at 28℃ or 32F  for 50 minutes or until the loaf double in size.
8. [8]
■Punch down to degas gently,Turn the dough onto a counter and divide in 2 and shape. ( It is much better to have beautiful loaf when you measure it) rest for 20 minutes.
9. ■Shape
: Japanese bakery way
: My way: to have taller loaf.  Both oval's height should be around 20cm. * pinch very well!
10■Place each of the dough in a loaf pan like the picture below.( It will rise equally)
        [9]
11■ Pace the dough have equal space in the pan.
     [10]
←Japanese Bakery way
←My way
12■Put a parchment paper to have a taller loaf.
13■Proof at 38℃ or 100F  until the dough rises up to the top of the pan.
11. ■Preheat the oven to 200℃ or 400F.  Decrease 180℃ or 350F and bake for 30 minutes.
12. ■Drop the pan with the loaf onto a ground about 15cm height to give the dough shock, and remove it immediately from the pan and cool on a rack for at least 1 hour or so, before slicing or serving. ( * Optional: Brush melted butter on the surface.)