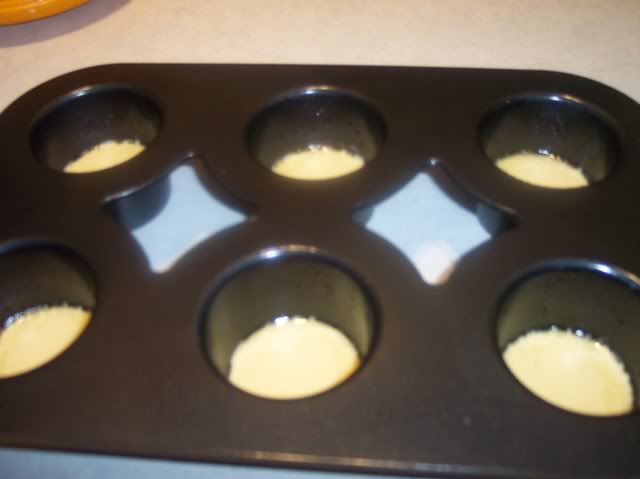 There are probably many that disagree with my recipe but I feel my pictures say it all, it works.
For my 6 fairly large puddings I used, almost as soon as I have had breakfast.
  2 large eggs right from the fridge
  1/3 cup flour, yesterday I used the same flour as I use for my bread
  and about 1/4 to 1/3 cup cold water right from the cold tap.
 Mixed all in a large bowl with balloon whisk, it's a job to get it to blend well. so I let it be a bit lumpy looking, mixture looks like heavy cream, sorta slow to pour.
this mix is then poured into a small jug, and the jug placed in the fridge, till I want to cook the pudding about 8 hours later.
I then heat my oven to 400f, spray my pans  with a quick spray of  Pam, place empty pans in oven to heat about 3/4 mins, remove pans from oven, divide the pudding mix into the hot pudding pans, place in oven and bake about 40 minutes, or until puffed and golden.
I do have a little story that goes along with Yorkshire puddings, I am a Londoner and these puddings are/were very popular when i was younger, My mum often made them
and it never failed when they were in the oven and you could see them rising, my mum would always say, "oh, I don't know whats happened to those Yorkshires," hence every one would look through the oven window and see all these gorgeous pudding
 puffing up like clouds. And strangely enough I seem to do the same as my mum always did........ :-))))  qahtan.