Hamelman's Challenge- Cheese Bread and Flaxseed Rye Bread
Baked 2 different breads, taking up the Hamelman's challenge, one quite successful and the other,  just had too many mistakes.  You will understand what I mean when you look at the pictures.
Cheese Bread with quite a bit of modification to the recipe.  Great oven spring, still learning to score to get the ears.  Not enough cheese,  quite an open crumb,  thin crust,  and 100% sourdough only.   check out the details here. [1]
Flaxseed Bread - too many mistakes here,  and this didn't turn out well at all.  Taste was ok, but it was dense and it didn't have much oven spring.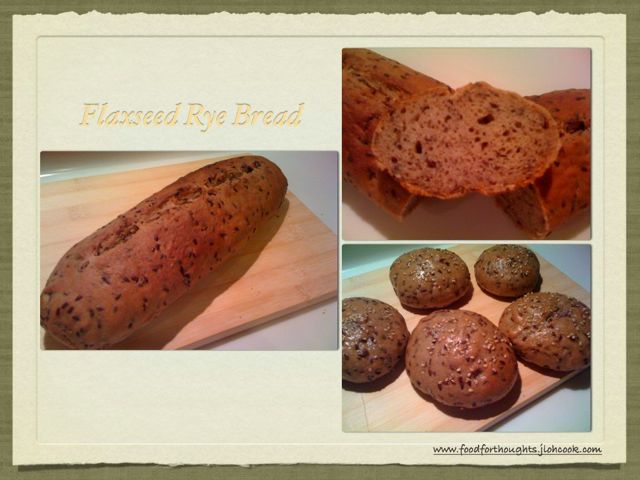 1.    This was my 3rd loaf (not counting my other bakes like muffins and flatbread) on a weekend,  and its one of the more difficult ones.   2.    Warm water for the flaxseed.  My water was still warm when I added into the flax seed.  I think that creates the gluey form more. 3.    Use of olive oil to handle the dough, the smell and taste doesn't seem to go together 4.    Brushing with butter - it made the rolls soft,  and not at all what I was hoping for. 5.    Shaping my rolls created a hole in the roll,  should have done better than that. 6.    Not allowing time for the dough to rise properly. 7.    I don't think I baked long enough or I didn't let it cool properly before I kept it,  as it turned moldy after 5 days.  
Well,  I still have  a lot to learn.