Starter, water, flour, salt, passion and the guidances of The Fresh Loaf!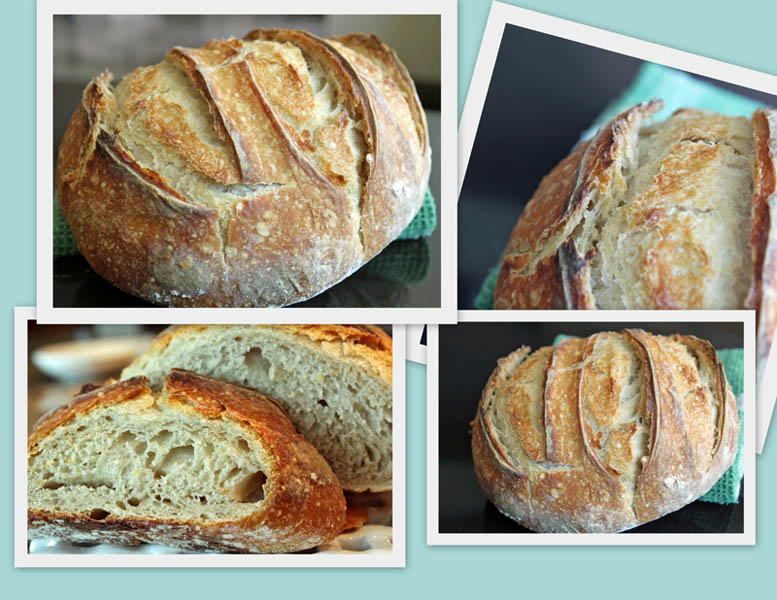 Ok, this is my first entry into my personal blog and hopefully not my last one (excuse my syntaxe as French is my first language...).
It has been a long journey into trials and errors, but I kept my passion for making the perfect sourdough bread and today, I believe I have achieved the beginning of the perfect sourdough loaf, for myself anyway.
So here it is... I follow these instructions from Susan from San diego [1], up to the 'T' without changing a thing.  Et voilà, my perfect sourdough bread is borned.
It was made with my homemade starter 'Bécacine', borned May 05 2010.  The smell of sourdough is very present and I am so pleased with the easiness of this method.  For baking, I used the method 'Roasting lid' [2] because this method seems to work the best for my condition at the moment : living 6,000 feet above the sea level in high altitude, in central Mexico, and I have to make breads with what I have around me and not always run to the store, which is pratically, non-existant here. 
For the colander, I replaced it with a straw bowl for tortilla, well floured, and cover with a coton dish towel, it worked like a charm. I don't have a pizza stone so I used the back of my cast iron pot to deposit the bread to be on it.  It did the job also.
Now, my big problem was to understand the process because here, everything with yeast in it will raise very quickly but also go down very fast because of the altitude, some days are better than others...  So the manipulation of the dough had to be restricted to a minimum and had to be studied closely to know the right time to move it.
It has been a long journey since May 05.  This bread is my 13th bread.  All the others ended up in the field for the birds, the snakes, black widow, scorpions, fire ants, etc... around me.  I could have kept them for building a wall of brick actually.
So it shows that it is not only a recipe that makes the perfect dish, it is the 'knowing how to cook, bake' that makes the difference, the location we live also and the passion for it.