An almost perfect Pretzel bake......(Hamelman's "Bread")
I have blogged about baking Pretzels before and this time I had one concern I wanted to be able to improve on-shape. Turns out two improvements were made and I will need expert baker's help to determine what is responsible for the slight texture change -which in my eyes made them perfect!
So, my previous bakes ended up with Pretzels that rose quite a bit in the oven and due to poor shaping, almost turned more into a pretzel shaped bun, than a Pretzel. The current Pretzels received(in general) superior shaping but also did not have a lot of oven spring. I don't know if that is the reason that the resulting Pretzel is chewier, I don't even know why the oven spring was only moderate- maybe once I elaborate on my procedure you guys can help me figure out what caused the chewiness, because I definitely prefer that over the more airy results I had in the last two bakes. Not that there was anything wrong with the other guys-just a personal preference! Here's the link to the old post ,I guess I only blogged about them once, but this is actually the third try-the second bake was done without sticking the pate fermentee in the fridge and they still turned out, pregnant looking and more airy.
http://www.thefreshloaf.com/node/16948/pretzel-baking [1]
Procedure this time around:
-I anticipated not being home for the mixture of the dough and gave my husband specific instructions as to what to do. For that reason I prepped as much of it as I could and the flour ended up with a 4 hour, roomtemp(maybe 70) autolyse.
-The pate fermentee ended up not doming and falling until I was back, so I can attest to the quite amazing gluten development the autolysed flour had already, when I started hand mixing the dough
-Bulk fermentation was at about 1 hour 50 minutes......forgot to fold the dough until the last twenty minutes of bulk fermentation-so it got folded close to the end
-pre-shaped into cylinders,rested the dough for about 20 minutes, then shaped the pretzels. the first few still looked like they would end up kind of tight, so I decided I would roll out the long strands of dough , let those relax again for a few minutes and then shape them into pretzels. THAT worked perfect and you will see that some of the pretzels stayed quite open.
-final fermentation about 30 minutes- and no they did not increase by 75 percent-closer to 50%...I REALLY wanted to eat pretzels last night and hurried the poor things along
-fridge time about 30 minutes,then dipped them and baked them about 16-18 minutes
Resulting Pretzels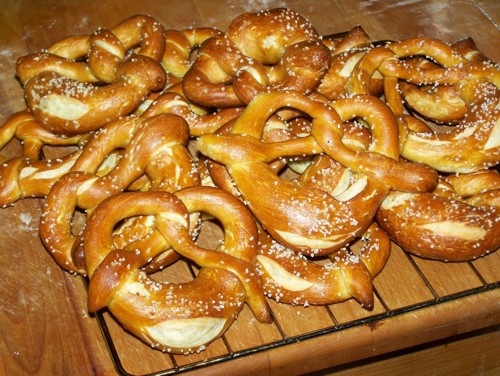 Now I just have to figure out the right way of storing them. Unfortunately Pretzels are really not good to keep-even the next day they are significantly less crunchy. I should have frozen these as soon as they were cool-maybe it isn't too late yet.
Christina