Gosselin-Bouabsa Hybrid Baguettes à la DonD
A few days ago, DonD blogged about some gorgeous baguettes he baked using a combination of unconventional mixing and fermentation techniques adapted from formulas developed by Pierre Gosselin and Anis Bouabsa, both very highly regarded Parisian boulangers. His description can be found here: Baguettes a l'Ancienne with Cold Retardation [1]
Don used both the long autolyse under refrigeration of Gosselin and the cold retarded bulk fermentation of the complete dough employed by Bouabsa. He got such wonderful results, I had to try his hybrid technique.
I had been concerned that the double cold retardation would result in a dough that had so much proteolysis as to be unmanageable. However, Don described his dough as "silky smooth." Well, my dough was sticky slack. It was all extensibility and no elasticity. Fortunately, i have worked often enough with doughs like this to know they can make the most wonderful breads, so I shaped (best I could), proofed, slashed and baked. Voilà!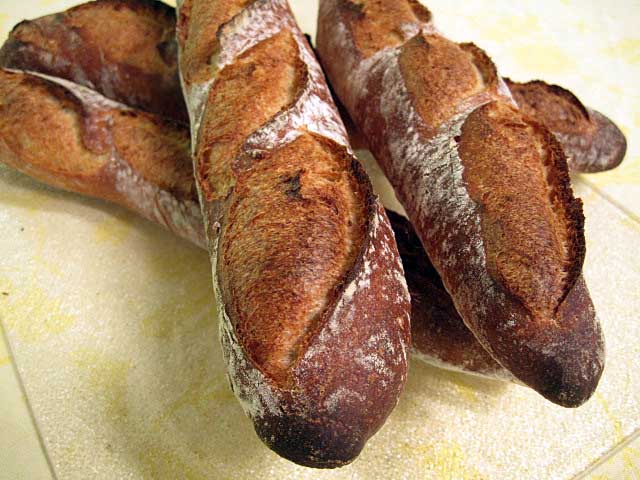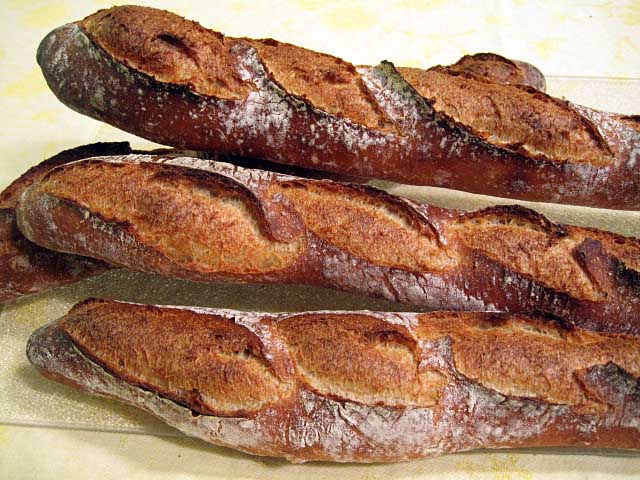 Since I was already afraid I'd over-fermented the dough, I erred on the side of under-proofing. The baguettes had almost explosive oven-spring. They about doubled in volume during the bake.
The crust was crunchy. The crumb was .... Oh, my!
The flavor was very good, but not as sweet as I recall the "pure" Gosselin Pain à l'Anciènne being.
These baguettes are worth baking again with some adjustments. I would endorse Don's decrease in the amount of yeast. I'll do so next time. And I will try a slightly lower hydration level. These were 73% hydration.
Thanks, Don, for sharing this very interesting twist in baguette techniques.
David