The Agony of Defeat and the Thrill of Victory
Bread baking really is a lot like the Wide World of Sports.  A really nice bake that lulls you into thinking you've 'conquered' a particular bread is often followed by a rude reality slap when a bake goes awry, leaving me, at any rate, wondering whether the former was just a lucky fluke or the latter a bad day.
Rarely do I experience both the high and low in a single day, but today's bakes managed to fill the bill. 
I began with an attempt at Hamelman's Three-Stage 90 Percent Sourdough Rye.  I've only been baking ryes for a little over a month, and I've been dutifully working up from fairly low percentage ryes to progressively higher ones.  This one was the second Detmolder method rye I've attempted (the first being a 50% rye which turned out quite nicely).  Everything had gone well through the various builds, until the final mix.  Then, I found (retrospectively), I had misread his final dough amount of medium rye - 1 lb, .7oz (that's point 7 oz) as 1 lb, 7 oz!  Not good.  (Should I mention that I'm waiting on a new pair of reading glasses?). 
I should have known immediately when I began the mix that the dough was way too dry for a rye.  But I continued the mix, and only after did I go back and redo all my calculations, eventually leading me to discover that it wasn't my math that was faulty, but my eyesight.  In desperation, I put the finished dough back in the mixer, and added the appropriate amount of water to compensate, mixed briefly on speed 1 and then proofed as per recipe.
Meantime, I had also mixed Hamelman's Pain au Levain with 5% rye, which I love for its subtle but distinct flavor.  I've slightly downsized his home recipe to make two 1.5 lb loaves.  I find that the finished product is about 11" long, weighs about 1 lb, 4 oz after baking, and is a perfect size (to me!).  The two bâtards were comfortably resting en couche, but it was now obvious to me that they would reach near-full proof too early given that the rye needed to go into the oven first but was now seriously behind schedule given my disastrous mishap.
I decided to retard the pain au levain in the refrigerator and hope that I wouldn't end up with an over-proofed product.
The rye went into the oven, after docking, for a 50 minute bake.  As you can see, I might be able to sell the finished product to a sporting goods store as an 'organic discus'.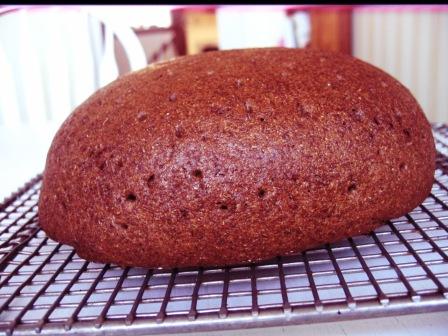 Ah the agony of defeat.
This left me with two loaves of pain au levain to bake and hopes for some kind of redemption.  The retarding, which I haven't tried with this bread before (Hamelman discourages overnight  retarding, and I've never tried short-time retarding) I think helped the scoring markedly.  But the proof of the pudding came 40 minutes later when I pulled the two loaves from the oven.  These had the best oven spring by far that I've ever achieved with this bread, as is evidenced by the gringes (also the best I've managed with it)!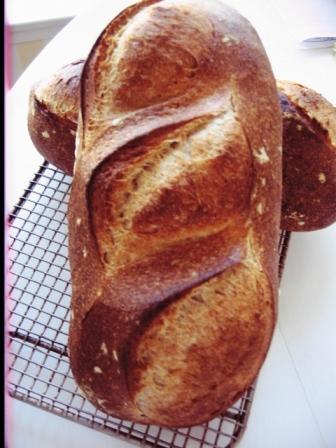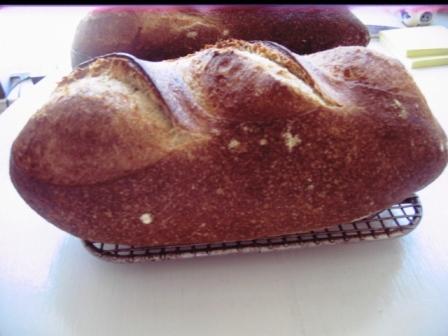 And - to top it all off - the crust after a couple minutes out of the oven began to crackle and continued to do so for the next hour!  Ah, the thrill of victory!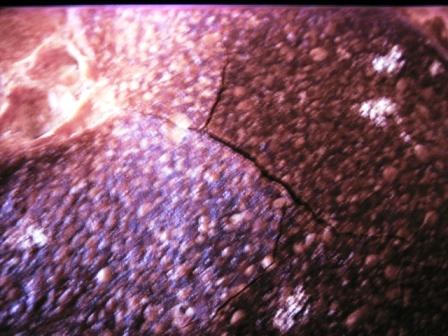 All in a day's baking.  So I again wonder, how much luck, how much misfortune, how much skill?  Something to reflect on over a nice piece of freshly baked bread!
Larry
Nearly forgot: the crumb shot from the pain au levain -