Anis' Baguettes, Question @ dmsnyder &/or mcs &/or you
Hello,
OK, so I have made this recipe several times and, well, I have not been wholly impressed.  The flavor is delicious, but the dough is in general difficult to work.  I don't and up with anything that resembles David's las post, http://www.thefreshloaf.com/node/9839/ficelles-made-anis-bouabsa039s-baguette-formula%E2%80%9D [1] nor a dough that resembles Mark's in his baguette shaping video, http://www.thefreshloaf.com/node/9994/short-baguette-video [2]
Not that I would consider myself in a league with Dmsnyder or MCS, I just end up with a dough that sticks to everything, is nearly impossible to form, and slashing it is kind of useless.  I have tried ranges of KA AP & bread flours with no apparent change in the loaves. 
My question is, should I just hold back on some of the water, or is there something I am doing to not develop the gluten enough?
The recipe I used this time is...
300g KA Bread flour
100g KA AP flour
300g Water
8g salt
1/4 tsp yeast
Procedure was
Mix to combine, rest for 20m, kept in fridge from this point on
"knead" I do this by using a fist to spread the dough as far up the sides of the bowl and the folding back in, probably 6-7 times
stretch and fold after 20m, I do this in the air-kinda like stretching a pizza, then folding it back onto itself
retard 20ish hours, remove from fridge and S&F again
let come to temp, usually ~ 2 hrs
pre-shape, rest 20 m, then shape
Let rise about an hour, bake under steam for 10m then dry for 15m
Note:  I don't use any flour for kneading or stretch and fold, or pre-shaping.  These pissed me off some so I rolled them in flour for the final shaping.
This made these 3 loaves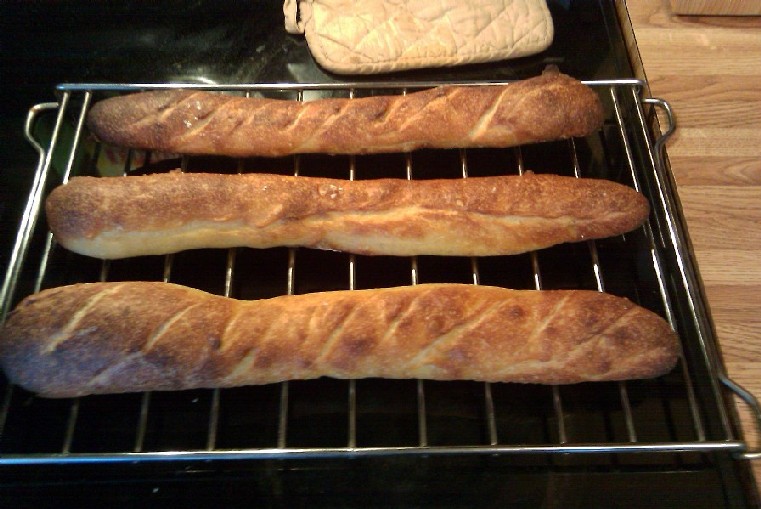 You can see the scores have nothing but color difference going for them, I knew they were going to be this way in such a slack dough, so I went a little overboard.  Also, a crumb shot for david, since I have asked for his input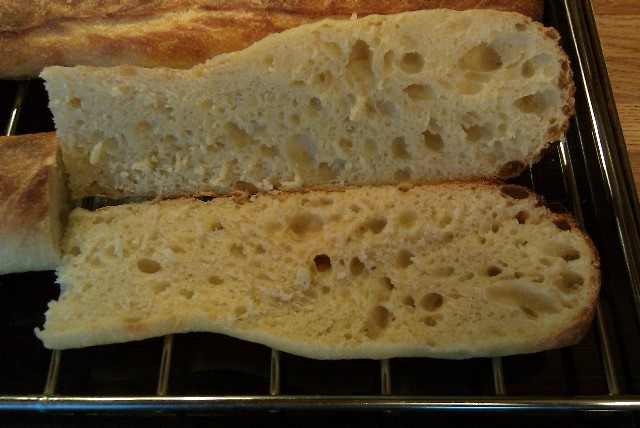 Sliced too soon, but I was hungry.  It is interesting that the crumb was most open where I couldn't 'tuck' the dough because it was too sticky.  The left side of the front loaf in top picture is what is shown split above.  There was sporadic flour on the counter when I was shaping them and this end didn't get any.
Anyway,  Thanks in advance,  Rick