I recently acquired a new toy...a camera remote that also has timer features. Playing around, I shot a time lapse video of dueling starters. Here are 9 hours condensed into 12 seconds.
On the left is my San Fran and on the right is a Swedish Rye recently received from Northwest Sourdough. Both began with 80g of starter and were fed 80g of flour and 100g of water. 
The San Fran has 2 complete rises, 2 dramatic collapses and is starting a 3rd rise when the clip ends. 
The Rye peaked at 3h09m and again at 5h27m.
The San Fran peaked at 5h03m and again at 7h59m.
This was shot on a day when a storm front was moving through and the changing cloud cover caused the lighting to jump around a bit.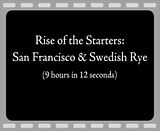 [1]
[ETA: I didn't like how PhotoBucket jumped 3 seconds into the video before starting, so I added a 3" header and changed out the video link]