I have been meaning to start a blog here at TFL for quite some time. So...
I want to start this blog with a post influenced by why I began a bread-baking adventure in the first place. My quest began several years ago in an attempt to recreate a sourdough "pumpernickel" I and my extended family of Austrian descent relished when I was a kid growing up outside Denver. (Hi Pat.)
There was a local bakery near I-70 and Josephine whose name I can't recall and that has long since disappeared. However, the memory of their "pumpernickel" lingers among numerous family members that still talk about it at holiday gatherings. I decided I would bring those memories back to life. 
As my knowledge of bread has grown, in no small part due to the TFL community, I realize this is not really a true pumpernickel, but basically a 50% Rye with Caraway.
I adapted a recipe from Charles Van Over's "The Best Bread Ever" (my first bread book) by eliminating commercial yeast and converting to a full sourdough, increasing the percentage of rye, increasing final hydration, and pre-fermenting 39% of the flour overnight. Below is just the latest tweak of the formula and the resulting bake from a few weeks back. Being a bit of a purist, I dropped the cocoa for a little while, but discovered it does add essential flavor undertones in addition to being a coloring agent. (Hey...some people like chocolate in their bread.)
Despite ongoing refinements and continual variations, I have a base formula that finally satisfies cravings from a now distant era.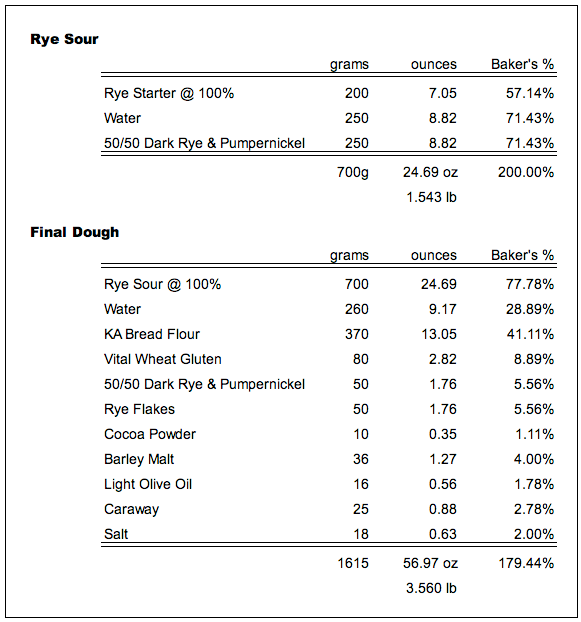 I used a 50-50 mix of Bob's Red Mill Pumpernickel and NYBakers Dark Rye, BRM Vital Wheat Gluten, Ghirardelli unsweetened coca, Eden Organic Barley Malt Syrup and KAF Bread Flour. And yes, I like poppy seeds.

Prefermented Flour = 38.89% Total Flour = 900g Total Water = 610g Final Hydration = 67.78%
General method:
Late evening the night before baking, combine starter, water and rye flour to make rye sour. Cover and ferment overnight.
In the morning, combine together all ingredients (except salt and caraway) just until hydrated. Let autolyse for 30 minutes.

With mixer running, add salt and mix for 5 minutes (KitchenAid @ Speed 2). Add caraway and mix for 2 more minutes.

Proof for 40 minutes in a warm place (76-80°F) then perform a stretch-&-fold.

Proof for another 40 minutes and perform a 2nd stretch-&-fold.

Proof for another 1.5-2 hours.

Preheat oven, stone and cover to 475°F.

Divide and shape dough into two boules or batards. Place either in covered brotforms or en couche. Proof for another 1 hour.

Lightly brush with cornstarch glaze (or spray with water) and sprinkle poppy seeds on top. (simmer 1 TBL cornstartch with 1 cup water for 2 minutes and allow to cool to room temperature for glaze) 

Score and bake covered for 15 minutes at 450°F before lowering temperature to 420°F and baking uncovered for a further 15-20 minutes. 

Allow to cool completely on wire rack. Flavor builds when left uncut as long as you can wait. Goes well with european unsalted butter, cured meats and pungent cheese.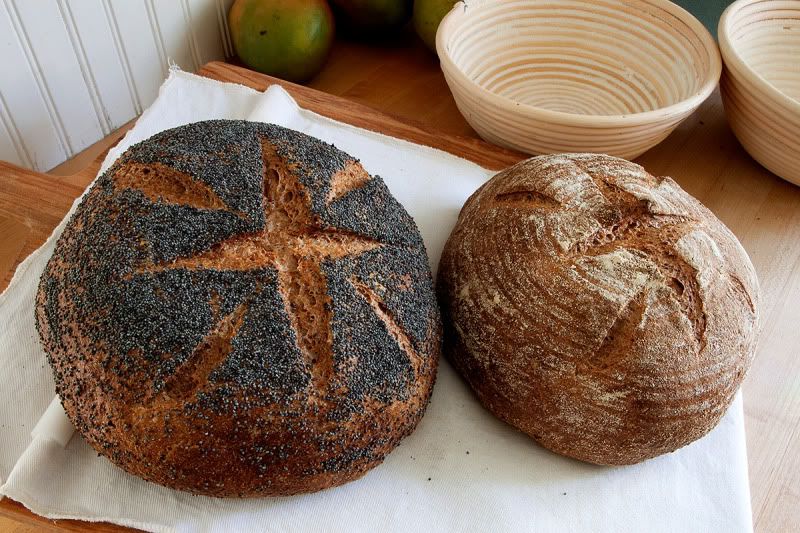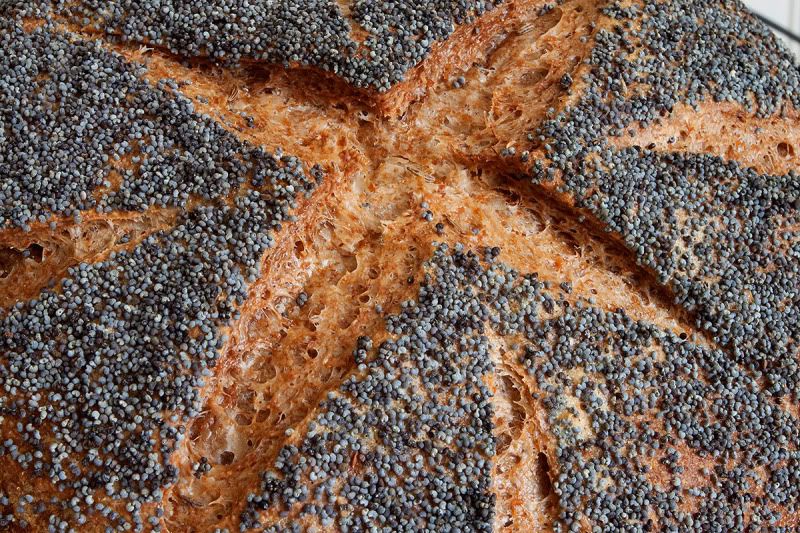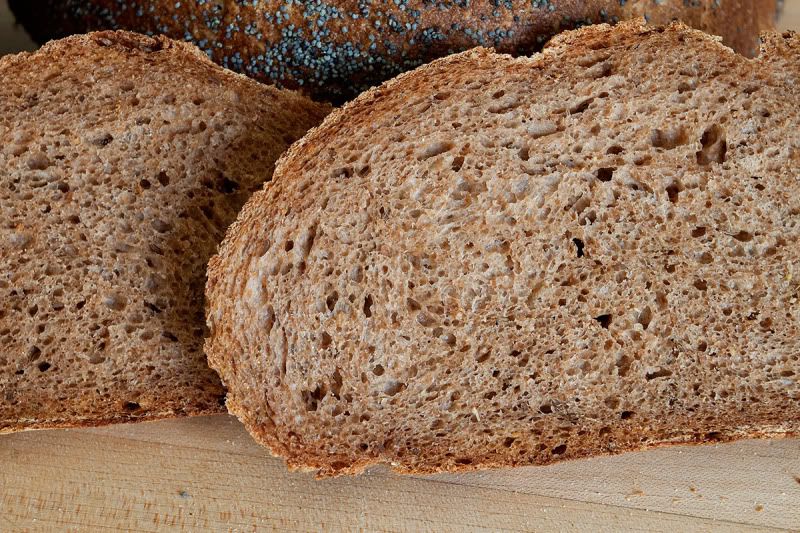 While the crumb make look dense, it is actually very even, light and moist. I normally have a more open crumb, but let this round overproof just a touch and was heavy-handed on the slashing. The flavor is clean and full with very little aftertaste..and meets the approval of all family members. The crust is thin and crunchy.
The non-poppy-top loaf was for those who get drug tested at work...
John