Until I found this site, I had never heard of spelt much less cooked with it.   Today's entry in my seven breads in seven days self-teaching event is a multigrain batard with spelt.   I made this using (slightly modified) no-knead methods.   This loaf lost its shape a bit while baking and looks like a boule from one side and a batard from the other.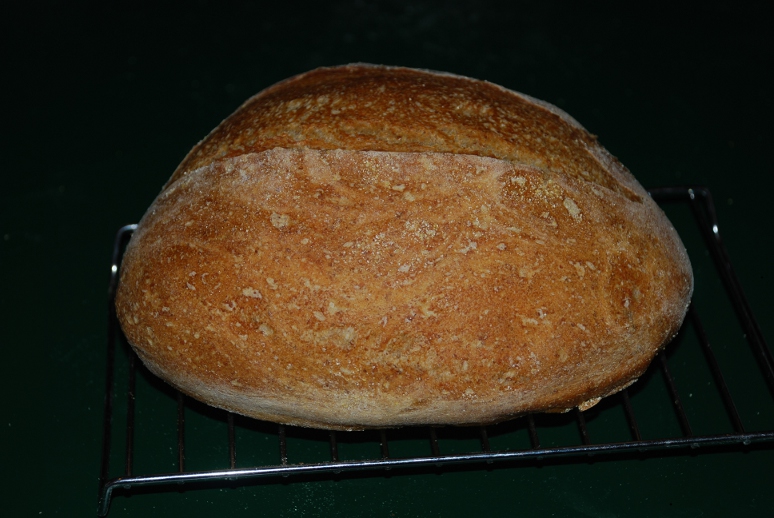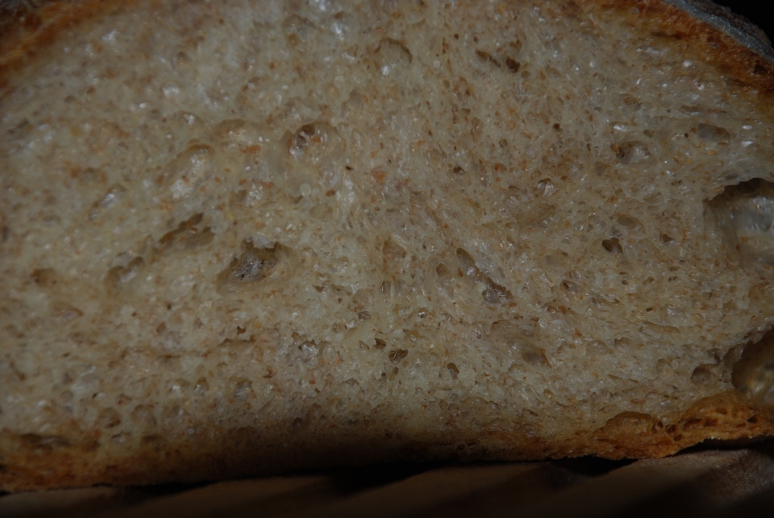 Here is the formula:
225 g bread flour
30 g spelt
20 g whole wheat
25 g rye
210 g water
3/4 tsp salt
<1/4 tsp yeast (less than 1 gram so hard to measure)
Night before mix all ingredients and leave in bowl on counter.   In the morning stretch and fold in the bowl.   When the dough has risen again and looks like it's about to collapse but hasn't, scrape out of bowl onto lightly floured counter.   (Times respectively for these steps 12 hours and 3.5 hours.)   Pat into ball and let rest for 10 minutes.  Shape into a batard.   Place on board sprinkled with cornmeal.  Let rise until double and/or fingertip impression remains.   (Note - I let this go until it was well past double and dough was still springing back.   Finally after 2.5 hours I decided not to risk letting it overproof and popped it into the oven.)   At least a half hour prior to baking preheat oven and stone to 475.  Score.  Place loaf on stone and cover with a lid (I used the bottom of a metal roasting pan.)   Bake for 20 minutes covered, then remove the cover for the last 15 minutes.  
Any tips on how to do this better for this or the other breads I posted yesterday and the day before are humbly requested!