Hannoversches Doppelback photos
Well, I have baked this bread many times, but this time around a whole bunch of things were changed in the process. Number one was that I made my own starter more according to what I read here on this site, rather than what it states in my trusted W. Fahrenkamp "Knuspriges Brot aus dem eigenen Ofen"(Crispy/Crunchy bread from your own oven). I feel my new starter is way more active and the bread easily doubled in the 75 minutes bulk proofing time. I also decided to retard it overnight in the fridge-something I had never done before. Upon waking it had spilled out of the loaf pan and I folded it down, reshaped it and let it proof under a damp towel for another 30-45 minutes; by that time it had risen again quite a bit and I feared I would end up overproofing, so I stuck it into my preheated oven-tossed icecubes into the oven as I always do, plus a pan of water, but this time the bread was on the lowest shelf. Previously I would have trouble with the bottom of the loaf almost burning since it is baked at about 220celcius for an hour and then at about 280 celcius for another 10 minutes-so this was the first time of putting it on the lower shelf.
Since I am not in the habit of opening the oven during baking( can one open the oven?I would imagine for some breads letting the steam escape is not good) I didn't realize until 10 minutes prior to the 230 degree bake that the temperature somehow was only at about 190 degrees celcius-probably due to me pre-heating the oven at about 250degrees and then turning it down....anyways, I wonder if that is part of the reason why one side of the bread is cracked HMPH!It says in the book I took the recipe from that a crack in the crust can be cause by the oven temp being too low,too little steam, or over/underproofing-any thoughts? I also wrapped it in a towel to cool down afterwards, which I had never done before, but read about in this forum:for my personal taste I wouldn't do that again, since I love a super hard crust, but it actually makes the bread way way way more appealing to my husband!
Anyways, all in all the bread did not burn or get near to burning on the underside(yay!!!), the crumb is dense-without being very heavy, flavorful, moist, with just a very light sourdough taste(I hope it will taste more sour as the starter matures). I think overall I am happy with the retardation in the fridge, but then again it could also be the very vigorous SD culture I have now. If I can just ensure that the dear loaf doesn't get a crack in the crust the next time around...........
Below are some pictures-included the good and bad side of the loaf and crumb shot.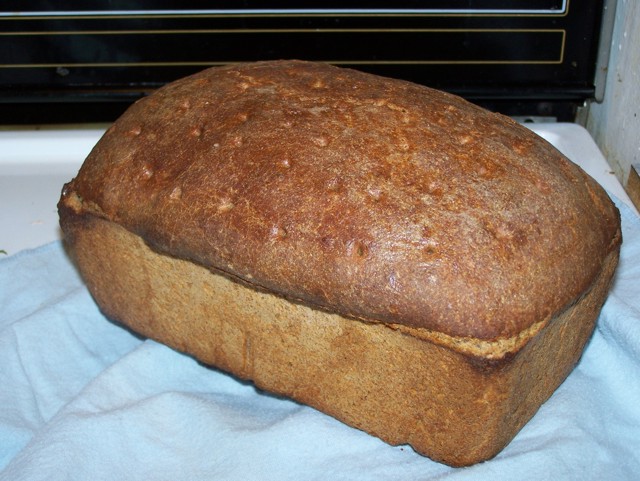 next the not so great side-I also don't know why the corner turned so dark*slightly grumbly*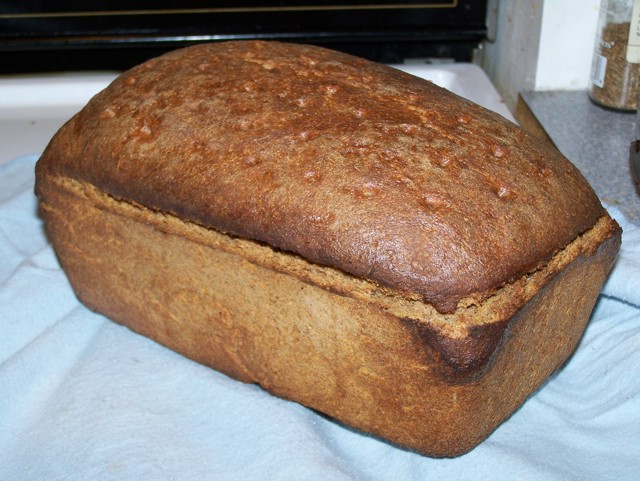 lastly-crumbshot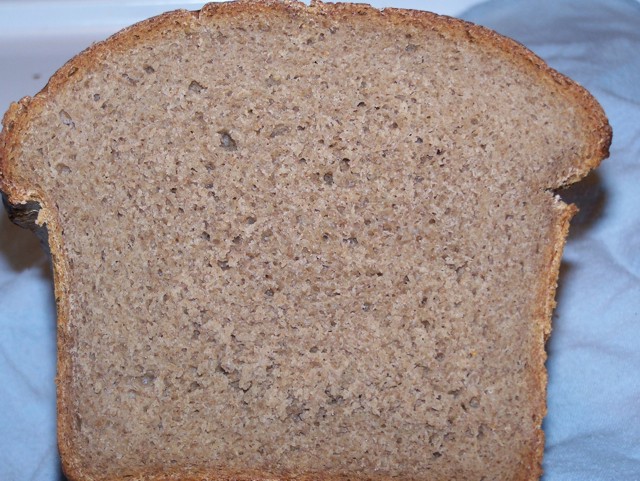 I posted a recipe under my initial question about retarding this type of bread here:http://www.thefreshloaf.com/node/16558/question-about-retarding-german-sourdough-bread [1]
Oh, I only kneaded this bread, in the bowl for about 10 minutes and added closer to 750 ml water-my starter was slightly lower in hydration than what the recipe called for and I generally do this by feel-it has to feel nice and velvety smooth and gooey.
I will have a nice thick piece of this bread with some Schmalz tonight.......I should have bought beer!
Christina