January 30, 2010 - 7:14pm
New Baguettes and a few buys
Hi All,
I tried again with the baguettes.  This time I used 1.25 cups of flour and .5 cup of water, 1/4 teaspoon of active dry yeast (i bought the glass jar in spite of some of ya'll's advice so i'll be using it for a while.) and 1/4 teaspoon of salt (i should've used more salt)...
So, does it count as an autolyzing if I've already added the yeast and the salt? Since i've got the active dry stuff i have to soak it first and since i'm using so little water i don't have enough to divide it.
Anyway, the dough was a lot firmer than I'm used to and I'm thinking I might try an extra .25 cup of water to see what happens.  I transferred the shaped baguette onto a hot cookie sheet and that seems to have helped with oven spring.  This time the shaping was a lot better-- I took occidental's advice and dusted the flour with a sifter and that combined with how the dough was a lot more dry than what I've been using so I managed to shape a pretty pretty loaf.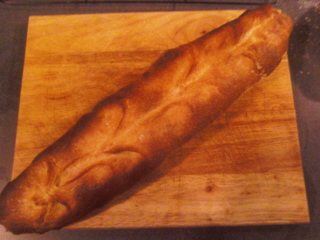 My knife obviously isn't cutting it ;) when it comes to scoring.  I went to the local wal-mart to look for straight razors (is that what they're called... oops, double edged razors) well, the saleslady looked at me like i was crazy.  I also went to the hardware store to find drop canvas-- more on that in a bit-- and some quarry stones.  All the tiles they had were glazed.  There's this place down the road that has a lot of rocks and stuff so maybe they'll have some.
The bread came out a bit darker than I like and i'm not too crazy about the taste of it.  Also it's missing some salt... actually, i've got some more dough in the fridge, let me go add salt to that now...
I'll let you all know what happens when you add salt 10 hours into a cold fermentation/rising.
Here's the crumb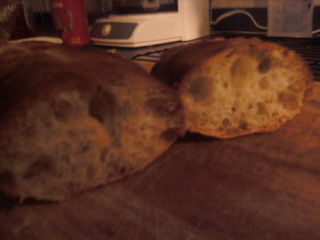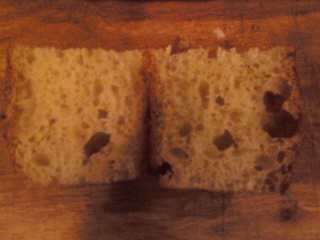 The bread came out sort of dry but that may have been because i tried baking at 500 for the first 10 minutes-- i won't try that again...
I don't reckon I'll count this as a victory-- except for the shaping; it's the best shaping i've been able to manage so far...
I think i put too much salt in the dough for next time... it'll be a half teaspoon for ~1.25 cups of flour.
anyway, regarding couches-- i went to the hardware store and got canvas drop cloth.  It says it's heavy-duty tight cotton weave, absorbent, washable and reusable, 8.oz. 4'x5' finished size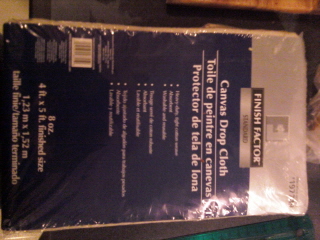 sorry about it being sideways... and here's as good a closeup of the weave as i could get with my camera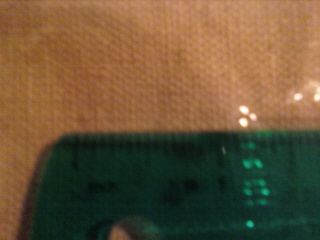 It's still in the plastic in case i've made a terrible mistake I can return it.
Does anyone know whether it'll work or not?  By the way, I need to wash it (with bleach as well as detergent?) then once it's dry rub flour into the weave?  is that how one turns it into a couche?