January 16, 2010 - 12:29pm
I have been a reader and poster (though only sporadically) for years now on this site.  I believe it was here where I learned the secret for creating sourdough starters, that resulted in my complete passion for making artisan breads.  I now make bread most weekends, and still get very excited watching the oven spring as it is happening, and, of course, cutting into the freshly baked loaf!  I realized that although I now have an extensive bread book collection, I find the book I most return to is "Bread"  by Jeffery Hamelman.  Here is why:  Once you learn to make this type of bread (or most any bread), from either the excellent explanations in his book or from another source, he provides a most extensive formulas that seem to work every time.  Perhaps if you are new to this type of bread baking, Peter Reinhart's books (particularly, "The Bread Baker's Apprentice" (BBA) will be best, since he does walk you through many of the basic techniques (That is what I really started with.) And I don't want to diminish the value of that book and many others.  I still use some of the BBA formulas, but I do want to say that once you have learned the basics, Hamelman's book seems to provide the techniques and formulas for some of the best breads, and it will take a really long time to bake through them, should you choose to make the various breads that are included in his book.
So the reason for this post was to express my enthusiasm for the book that I most rely on.  The other thing is that while now I mostly create my doughs without my mixer using the "French fold," (See the info on this site and watch the video by the French baker making sweet dough.), his formulas still work wonderfully for me. 
Today I baked his semolina with sesame seeds, and it looks like another winner, though I have yet to cut into it!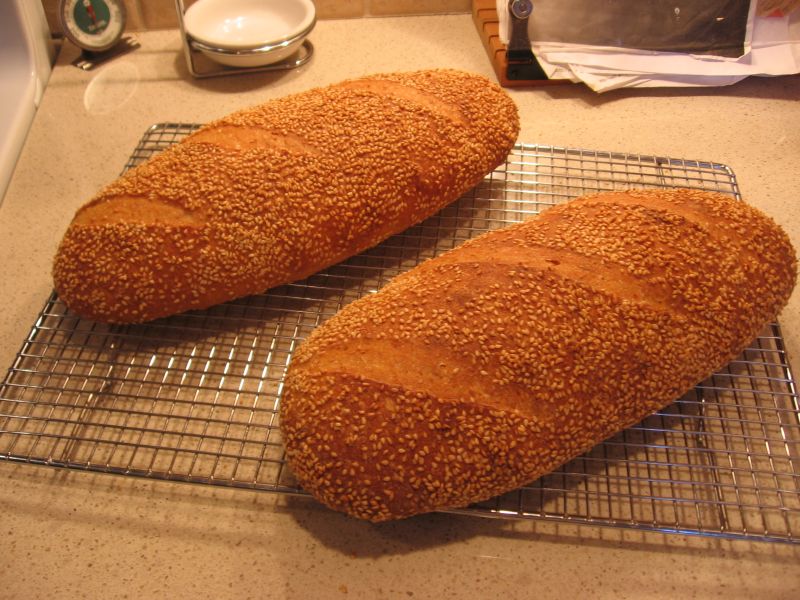 Also, some of the content seems a bit intimidating at first, but I've learned that you can do what works for you, and end of with a lot of wonderful bread.  So if you have the book, try it, if not, it is really worth having.  And no I don't get any kickbacks for this endorsement!!! I just think that if you are interested in making wonderful artisan breads, this book is fabulous!