December 27, 2009 - 8:18am
And now for something completely different...(^-^)
Living in Hawaii and being married to a part Hawaiian, I've had the chance to eat quite a variety of local foods.  And one of them is a paste called poi.  Poi can be made from many starches but it's usually made from the corm of the taro plant which has been steamed or boiled, then skinned and mashed into a mashed-potatoes consistency.  While some folks like fresh poi, many prefer poi which has fermented for a day or two to the point at which the amount of CO2 in the poi actually tingles on your tongue.  Mixing cooked, mashed ulu (breadfruit) along with the taro poi both gives it an interesting flavor and seems to both hasten and amplify the fermentation process.  Since I had some ulu/taro poi which had "gone off" and was being stored in the fridge, I thought I'd try it for a sourdough starter.
I used Jim Lahey's pane integrale basic recipe beefed up to 2+lbs (480 gm bread flour, 160 gm whole wheat flour, 1 1/2 tsp salt, 1/2 tsp yeast, 500 gm water, 1 Tbsp olive oil).  First I mixed the dry ingredients, then added the water and dough whisked it to an even consistency.  Then I added 3/4 cup of the poi and worked it in and finally added the olive oil.  The dough usually rises steadily and I generally let it go for the full 18 hours.  In this case the dough was near the top of the mixing bowl in only 5 hours!  Still I let it go for the full 18 hours not knowing exactly what the effect of the poi would be on flavor.
So the next day on to the well-floured board, fold, fold, fold, rest and then 1/2 more folds and on to the parchment paper in a plastic colander (poor man's banneton).  I sprayed the dough surface with olive oil and sprinkled corn meal on it after that.  Two and a half hours later it went into my pre-heated Dutch oven at 450-475 F for 35 minutes, then 20 minutes with the lid off and a final 10 minutes out of the Dutch oven with its paper removed.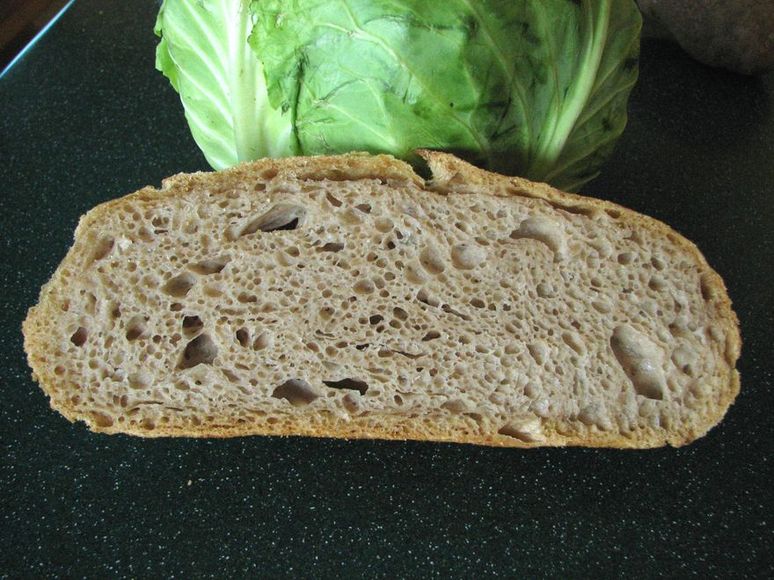 So here's a picture of the crumb.  I was really happy with this! And the aroma is much that of the sour poi.  The flavor reminds me and my family of San Francisco style sourdough bread.  Although not shown, the crust showed a nice expansion not only at the cut but also at several other places.  I believe that the olive oil spray really did help to keep the crust flexible enough for this to happen.
  aloha,
Dave Hurd, Hilo, Hawaii