November 21, 2009 - 9:17pm
If blood will flow when flesh and steel are one

Drying in the color of the evening sun

Tomorrow's rain will wash the stains away

But something in our minds will always stay

 

Perhaps this final act was meant

To clinch a lifetimes' argument

That nothing comes from violence

And nothing ever could

For all those born beneath an angry star

Lest we forget how fragile we are

 

On and on the rain will fall

Like tears from a star, like tears from a star

On and on the rain will say

How fragile we are, how fragile we are
                                                                                                               By Sting, 1987 (to listen, click here [1] or here [2])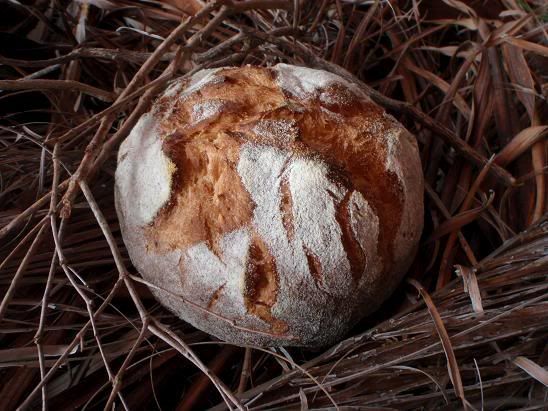 I rarely listen to the lyrics of a song, too hard for a person whose mother tongue is not the language of the song.  The music is far more important to me than the lyrics.  I can pick up the faintest instrument playing in the background and the inter-plays of instruments often exhilarate me.  Sometimes when I am drunk in a piece of music, it feels like I am in the best medication ever afterwords. 
And so it was in one of those blissful moments when, all of a sudden, the words "That nothing comes from violence, And nothing ever could" entered into my consciousness as clear as crystals.  The music moved me and I wanted to turn this energy into something.  No bread that I could make could match the delicate sensibilities that I felt in this song.  But I have to get it out of my system.
This bread was my 6th attempt at this since my last post at TFL.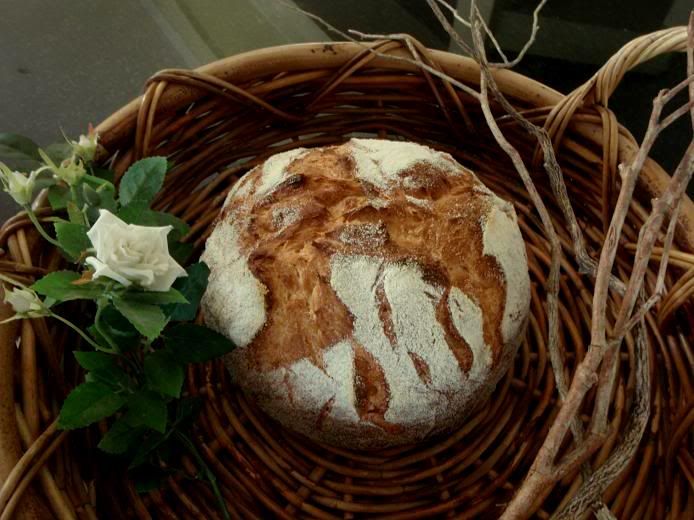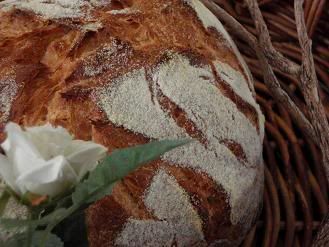 When I was deciding what style of bread that I wanted for Sting's Fragile, I remembered a picture that I saw nearly 6 months ago that caught my attention in Hamelman's Bread - picture 21: Assorted Rye Bread from Chapter 6 (behind page 224).  Hansjoakim [3], one of the perfectionists of the TFL bakers, did a beautiful job in this bread.  He proofed the shaped dough in a brotform with the seam-side down and baked it with the seam-side up to allow the seams to open up in the oven.   Something like that but not exactly like that was what I was looking for.  I wanted the seams to open up like a flower with deep fissures in even more dramatic ways.
 1st attempt: Pain au Levain with black sesame meal and buckwheat flour (overall hydration 68%)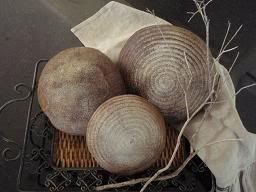 I initially wanted some black color in my bread so I used ground black sesame seeds and buckwheat flour which was the most "blackish" looking flour in my pantry.  This was a failed attempt because other than proofing with seam side down and baking with seam side up, I did nothing different to what I normally do.  The seams did not open at all. 
The bread tasted nice.  While the texture looked open, the bread felt heavy because of the black sesame meal.  The effect of ground sesame seeds on bread is a bit like that of almond meal on a cake or quick breads.
 2nd attempt: Pain au Levain with buckwheat flour and teff flour (overall hydration 63%)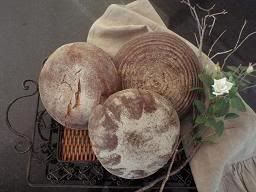 At this second attempt, I thought all that I needed to change was the dough hydration - it had not clicked on me that it is not the dough hydration but the way I shaped the final dough that matters in the final look.  By accident, I got a few shallow fissures on the bread to the left in the picture above.
3rd attempt: Pain au Levain with buckwheat flour (overall hydration 68%)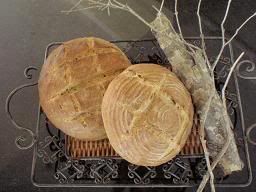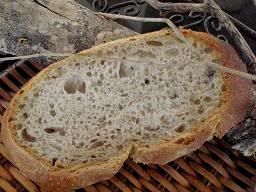 By this time, I knew that shaping was important for what I wanted to achieve.  As rice flour can help prevent sticking, I used a mixture of rice and buckwheat flours on the work bench (when I was shaping) as well as on the brotform.  This batch was divided into 3 pieces like the previous two batches.  The first piece of the proofed dough showed small lines of seams before loading but the seams closed up in the oven.  I knew that the other two pieces of dough would be the same; I was so mad that I slashed the other two doughs to bake. 
4th attempt: Pain au Levain.  The result was still the same.  I was too mad to take a photo of this bread.  I tried baking without steaming, but the seams still did not open up.  I did take a photo (below) of all the breads from the week's baking and I think of the "happy pigs" [4] in San Francisco - the happy recipients of SFBI students' baking.  Christmas is coming and I haven't done any festive baking.  I have always loved the Italian panforte.  I might try making a bread panforte.
5th attempt: Pain au Levain.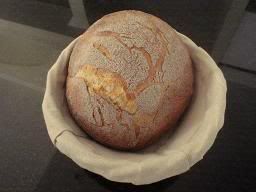 I was finally getting somewhere.  (1) I shaped loosely with a lot of rice & buckwheat flour mixture on the bench; and (2) I proofed for only 30 minutes in the brotform so the shaped dough with its loose seams did not stay in that position for too long. 
6th attempt:  a yeasted bread (600 g bread flour, 380 g water, 24 g olive oil, 20 g honey and 3 g instant yeast)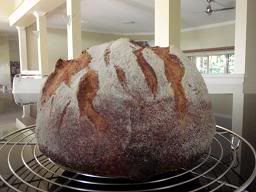 It was very late at night when something dawned on me - for the seams to tear open in the oven, I really shouldn't do a normal shaping.  Following is what I have found for this shape of baking:
(a) Shaping: merely gather the edges to the centre without using your hands to tighten the boule against the work bench.  In other words, the seams should not be sealed in any way.  As well, the seams should be clearly definable after proofing and at time of loading.
(b) Proofing: as short as possible, 30 - 45 minutes, no more than 1 hour.  It's best that the proofing basket be covered only loosely with a kitchen towel, not covered tightly in plastic bag.  The dough should be able to air. 
(b) Retarding:  If the dough is to be retarded, retarding in bulk is better than at proofing stage.  If the shaped dough goes through a long retardation, its seams may be closed up.
(c) Baking:  the oven should be very hot to start with (ie, 250C / 480F).  I do not know, however, whether or not steaming makes a difference. 
I did take a crumb shot but forgot to download it before my daughter took my camera with her to her schoolie's holiday yesterday.  I made her three batards for her schoolie's week to enjoy with her friends.  I drove her to Gold Coast yesterday and she said I was an awesome mum.  Well, what we do for our daughters!  On the way home, I stopped by my most favourite bread shop in Gold Coast, Flour Bakery [5].    I bought the two breads pictured in Jesse Downes' hands: Spelt Sourdough and Seeded Spelt Sourdough [5].  I had the best coffee in Queensland there and ate my way through the bakery's other goodies.  I was in heaven.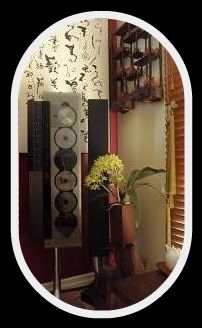 Shiao-Ping