October 27, 2009 - 10:54pm
We've had company for several days and I baked up a storm, but we ate most of it, and I gave the rest away as gifts.  It was a lot of fun but this morning there were only a couple slices of leftover sourdough for toast and that was it.  Great. I get to bake!  But it's a work day and not much time available so I baked just a couple of loaves of white bread to get us to the weekend.
and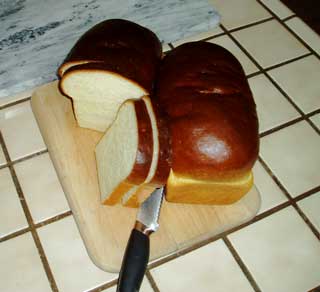 This was based on a recipe by nbicomputers (thank you Stan!) that I found a few days ago and modified.  The recipe was for a straight dough, and it was beautiful.  I made up a preferment first from about 30% of the flour and water, and let it ferment for about 4 hours before I built the main dough.  I was trying to get some more flavor. I also scaled it up a little to fill two large loaf pans, but I kept it to just one egg and cut back on the sugar somewhat.  It still turned out a wonderful light texture, although the flavor is still somewhat sweeter than I wanted.  I also forgot to switch the oven from convection for preheating to straight bake, so I got a crisper, browner crust than I intended.  Brushing it with some melted butter right out of the oven seems to have taken care of that.  I'll certainly bake this one again one day.
OldWoodenSpoon