October 19, 2009 - 8:50pm
So, my absolute favorite breakfast is a nice half of a toasted baguette with butter and (preferably homemade) jam. But a close second is pretty much any type of breakfast pastry. Recently, I've been experimenting with using my sourdough starter in a few recipes. In this concoction, I made a basic sourdough recipe, added raisins and dried cranberries. After bulk fermentation, formed into thin worms, which I rolled in cinnamon sugar before forming the knot shape. I'm aiming for just a little sweetness with the sugar dusting, but didn't want to make a sweet dough. I haven't tasted them yet (saving for breakfast tomorrow) but the house smells delicious and I'm pretty excited.
Dough recipe: 1/2 c 100% hydration starter (fed last night), 1.5 c AP flour, 3/4 c white whole wheat flour, 1 1/4 c water, 1/2 c mixed raisins & dried cranberries. Mix & autolize 30 minutes, knead briefly. Then stretch and fold twice, at 20 min intervals. After the second S&F, fold in and knead dried fruit. Let rise until doubled--about 3 hours. Shape as described above (I divided into 6 rolls), then proof 40 minutes, and bake at 425 degrees for 20 minutes.
Here are the rolls before going into the oven: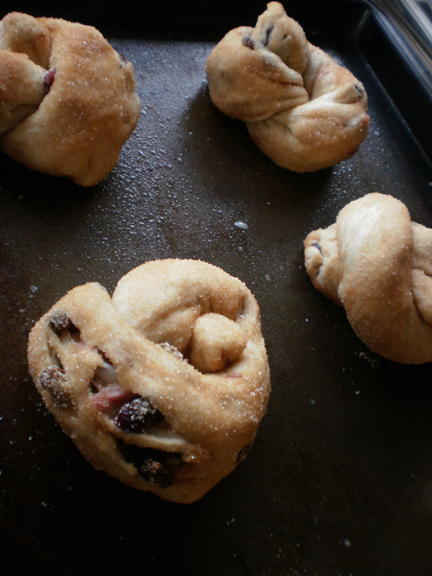 And the final result: