September 26, 2009 - 9:29pm
Here is a picture of my jury-rigged cloche. Not pretty but it works quite well.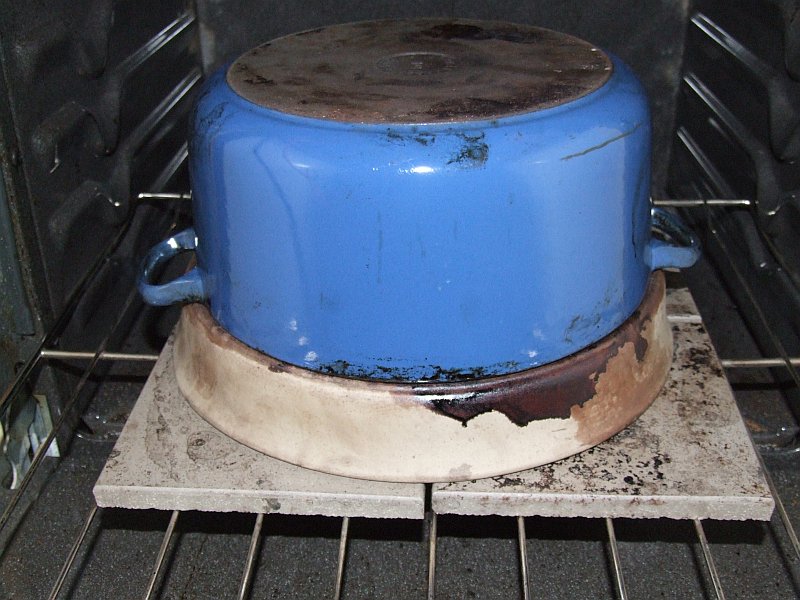 It is a La Creuset round dutch oven (enameled cast-iron, I'm not sure the size) over a Sassafras "Deep Dish Pizza and Pie Baker" (ceramic), upside-down. Someone gave me this as a gift years ago and I've hardly used it until now as I'm not a deep dish pizza fan and can't imagine baking a pie in that thing.
Note that the handles of the dutch oven are not flush with the top, but the stick below the level of the rim slightly (above when right side up) so this won't work unless the deck is raised and just the right size like this pizza pan. It's sheer luck that these worked together so perfectly.
I started out using quarry tiles, with an enormous terra cotta flowerpot as the top (hole plugged with wadded up aluminum foil), but I worried that the spaces between the tiles would let steam out and defeat the purpose of the cloche. Also the flower pot is unweildy and has no handles. I've left the quarry tiles in place under the pan, but I'm not sure if they contribute anything.
The only downside is it only fits one boule at a time and you have to have decent aim delivering the loaf from the peel. I've had a couple of loaves wind up squashed on one side (which didn't impair their taste or texture, but they looked a bit wonky).
The pizza baker has developed some cracks, but I've patched them with high temperature silicone (hoping nothing toxic is coming out...I've only patched from the other side, not the baking surface). While the silicone was drying, I switched to a metal pizza pan (also upside down...and larger) with the flower pot. The couple of loaves I baked on that wound up burned slighly on one side which has never happened with the stone which always produces evenly baked loaves.
I just recieved a baker's stone from NY Bakers and intend to make myself a couple of terra cotta cloches (I'm also a potter) to replace this setup eventually, probably in different shapes and sizes. I wonder how closely the cloche needs to fit around the bread to work? Would too much space make it less effective?