September 2, 2009 - 11:47pm
Reasons to bake #18: Cold and miserable weather
The pain au levain with whole-wheat from "Bread" that I blogged about a few weeks ago, is quickly becoming one of my favourite levain breads. Here's one that I baked yesterday afternoon: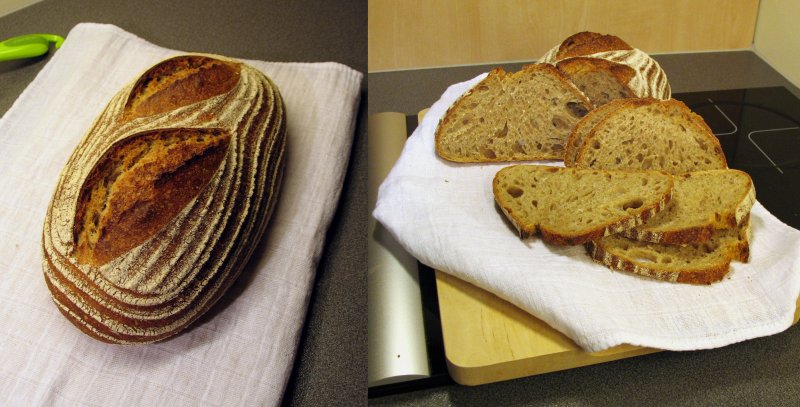 I'm always amazed by the fact that these levain breads only contain three ingredients: Flour, water and salt. It's fascinating how three so simple ingredients come together and, given enough time, produce delicious loaves. This loaf has a subtle and mild taste, and I usually eat it plain in order to fully enjoy the flavour.
In my last post, I wrote about a new rye starter that I made. The initial motivation to get a new one going, was to see whether there would be any significant difference in flavour compared to the stiff, white starter that I've had for about a year. The rye starter is incredibly active, and I've been keeping it on a 1:10:10 (starter:flour:water) diet, with feedings spaced roughly 12 hours apart. The resulting loaves taste pretty much like those leavened with the white starter, so I guess one of them will eventually be cut loose... We'll see. Anyways, below is a multigrain sourdough that I baked with the rye starter (no commercial yeast):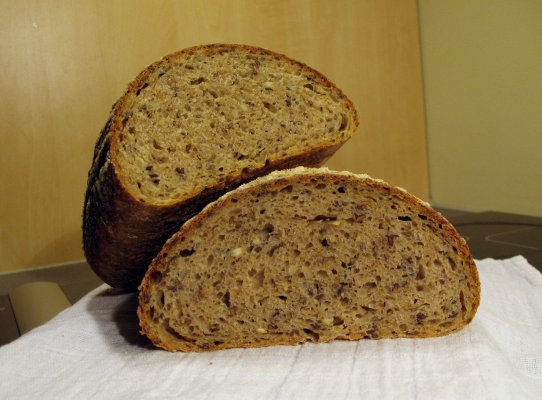 It's approx. 20% whole-rye (all from starter), 10% buckwheat and the rest bread flour. Multigrain soaker contains the usual suspects (i.e. flaxseeds, quinoa seeds, oat bran, rye chops, sunflower seeds). I gave the dough a 2 hr. bulk followed by proof overnight in the fridge.
I also baked some croissants over the weekend: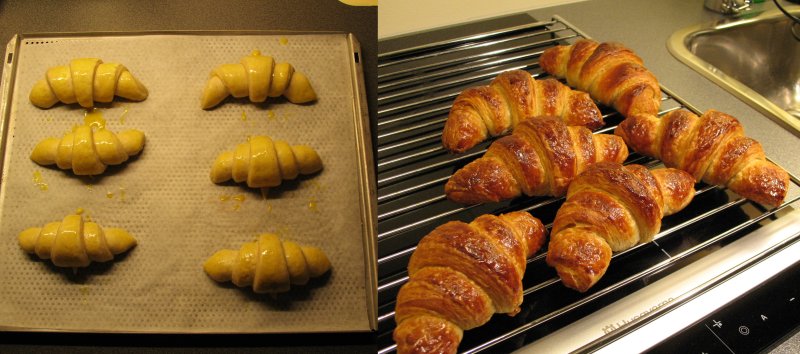 It's been a long time since I had a go at these, and I've definitely felt the cravings for buttery, flaky croissants for a while. I used the straight dough version from Suas' ABAP, and let the dough ferment 45 mins. at room tempertaure before I degassed and retarded the dough in the fridge overnight. Lamination (three single folds) the following morning, and makeup and final proof the following afternoon. A nice evening snack and splendid petit dejeuner the next morning :) They turned out alright, but rolling and shaping still need practice.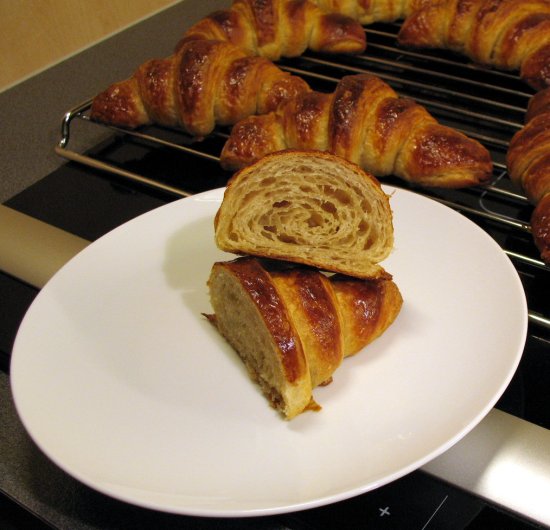 Finally, a humble carrot cake: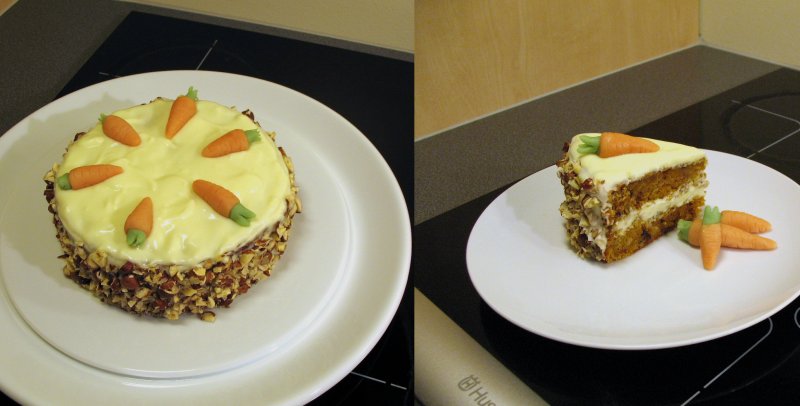 A very moist, soft carrot sponge and cream cheese filling made this an enjoyable dessert! Three pretty large, shredded carrots went into the sponge batter (baked in a 15 cm cake ring), but I think even more could go in there to give it a stronger flavour of carrots. The most enjoyable bit was actually making small, cute marzipan carrots :)