September 1, 2009 - 10:13pm
Chocolate Sourdough Rolls
These are inspired by the "Chocolate Things" at the Cheesboard Bakery in Berkeley. However, since I've become somewhat obsessed with my sourdough starter (Sebastian) since growing it (him?) a month or so ago, I of course, decided to modify the recipe to use up some of my discards.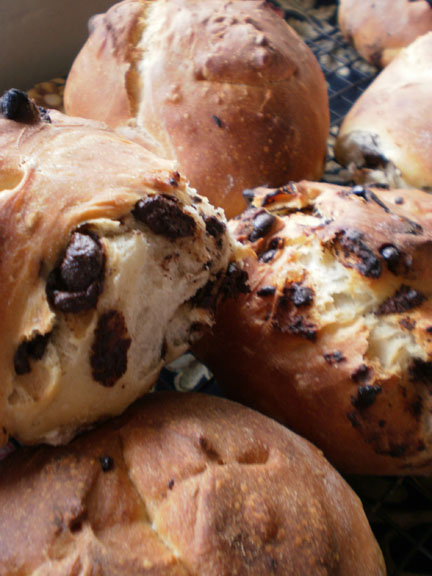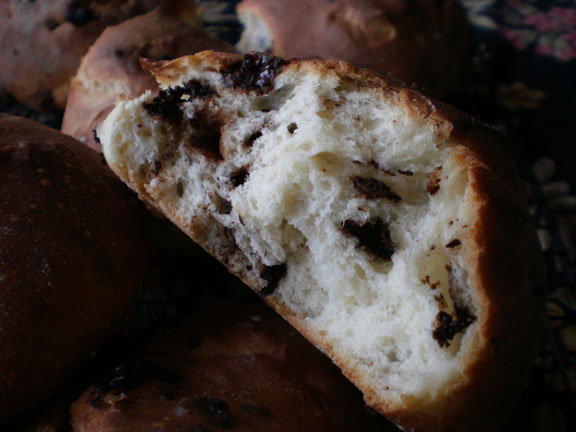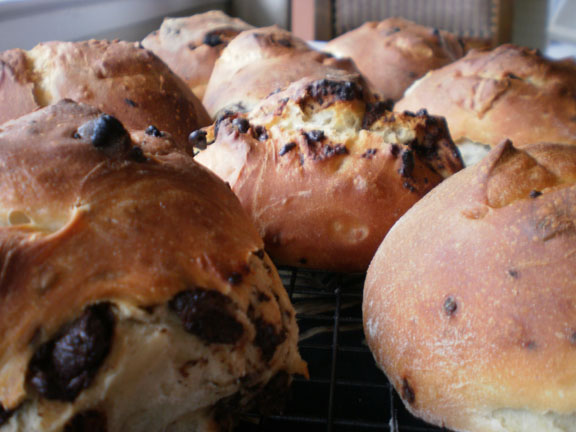 Recipe (all measurements are in volumes, and are also approximate--I am chronically incapable of sticking with any precision to any recipe whatsoever. I know it would probably help my baking if I did, but going by dough-poking feel is more fun.)
Combine in a bowl: 3/4 cup sourdough starter discards (straight from fridge, they'd been accumulating for about a week), 3/4 c water, 1 c flour. Let sit for 2 (or more) hours. Mine bubbled, but didn't rise very much.
Add in 3/4c water mixed with about 1/4 tsp. dry yeast (I was worried that my discard starter needed a bit of help, but you could probably skip this), 1 egg, 2 Tbsp sugar, 2 Tbsp very soft butter, and about 3-4 c flour until a soft, fairly moist dough forms. Knead for a few minutes, then cover and let rise for about 3 hours. My dough almost tripled in this time.
Fold/knead into the dough about 1cup coarsely chopped chocolate chips. Shape into balls (or a loaf) and let proof on a baking sheet for about 45 minutes while the oven preheats to 400. Bake for about 20 minutes. I sprayed the oven for steam right as I put them in.
The sourdough taste is less pronounced than I'd like, but they are great for a breakfast or snack treat. As the dough isn't too sweet, the chocolate doesn't seem too overly decadent. (Which of course is my justification for eating them right out of the oven.)