Susan from San Diego's "Ultimate Sourdough:" A trial of cold retardation in bulk.
There has been quite a bit of discussion on TFL regarding cold retardation of late. This is a recurring issue, as a site search on "retardation" will reveal. My overall conclusion has to be that, particularly for sourdough breads, there is no hard and fast rule. This is not surprising, since review of several highly-regarding bread books reveals considerable variation in how this subject is approached.
Most home bakers are fundamentally pragmatic. Some groove on the science and want to understand each process in detail, but most just want to make really good bread. Retardation is mostly a matter of convenience – to fit bread baking into a busy schedule – for both the home baker and the professional. For some, retardation during bulk fermentation works better. For others, retardation of the formed loaves is more convenient. But does the choice effect the quality of the bread?
I have generally made my own choice according to the procedures specified in the formula I was using. I've made breads that call for retardation in bulk, like Nury's Light Rye and Anis Bouabsa's baguettes, and I've made breads that are retarded after the loaves are formed, like most San Francisco-style sourdoughs. But I've never switched a recipe from one to the other, until today.
The bread I chose to make was Susan from San Diego's "Ultimate Sourdough." I have made it several times before. I have made it without any cold retardation and with cold retardation of the formed loaves. I decided to see how it would turn out with overnight cold retardation in bulk.
Susan's formula makes one smallish boule. I generally double the recipe to make 2 small boules. This time, I tripled it to make two somewhat larger (22.5 oz) loaves. For your interest, I have included a table of ingredient quantities for one, two and three small loaves.
| | | | |
| --- | --- | --- | --- |
| Ingredients |   |   |   |
|   | 1 loaf | 2 loaves | 3 loaves |
| Active starter | 12 gms | 24 gms | 36 gms |
| Water | 175 gms | 350 gms | 525 gms |
| Whole Wheat Flour | 25 gms | 50 gms | 75 gms |
| Hi-Gluten Flour | 225 gms | 450 gms | 675 gms |
| Salt | 5 gms | 10 gms | 15 gms |
For this bake, I used KAF White Whole Wheat and Bob's Red Mill Organic Unbleached flours.
Procedures
I dissolved the starter in the water in a large bowl
Both flours were added to the water and mixed thoroughly.
The bowl was covered tightly and the dough was allowed to rest (autolyse) for 20 minutes.
The salt was then added and folded into the dough using a flexible dough scraper.
After a 20 minutes rest, the dough was stretched and folded in the bowl for 20 strokes. This was repeated twice more at 20 minute intervals.
The dough was then transferred to a lightly oiled 2 liter glass measuring "cup" with a tightly fitting plastic cover and refrigerated (10 hours, overnight).
The next morning, the dough had expanded very little. I took it out of the refrigerator and left it at room temperature. After 3 hours, it had expanded only slightly, and I was concerned how little gas formation was occurring. I transferred the dough to a lightly floured bench and did a single stretch and fold. The dough was then returned to the bowl. From that point, it became more active and doubled in another 2.5 to 3 hours.
I then divided the dough into 2 equal parts. One was preshaped into a round and the other into a rectangle. After a 10 minute rest, I shaped one boule and one bâtard, each of which was placed in a floured banneton and then in a plastic bag to proof.
I proofed the loaves until they were expanded by 75% or so. They were then transferred to a peel, slashed and transferred to a pre-heated baking stone. The oven was then steamed.
The loaves were baked at 480F with steam for 10 minutes, then another 17 minutes at 460F without steam. They were left to dry for another 10 minutes in the turned off oven with the door ajar.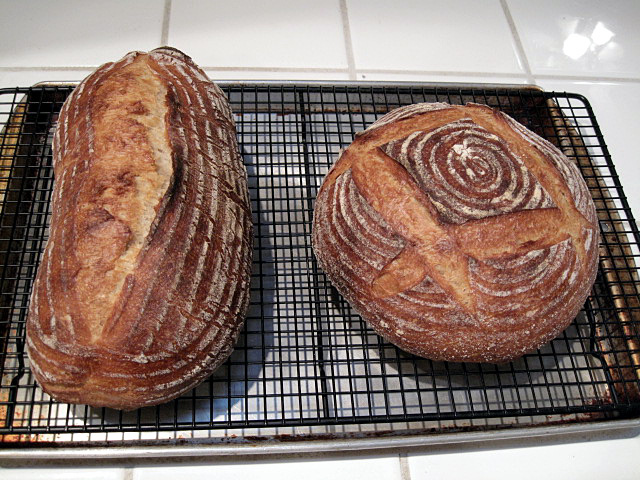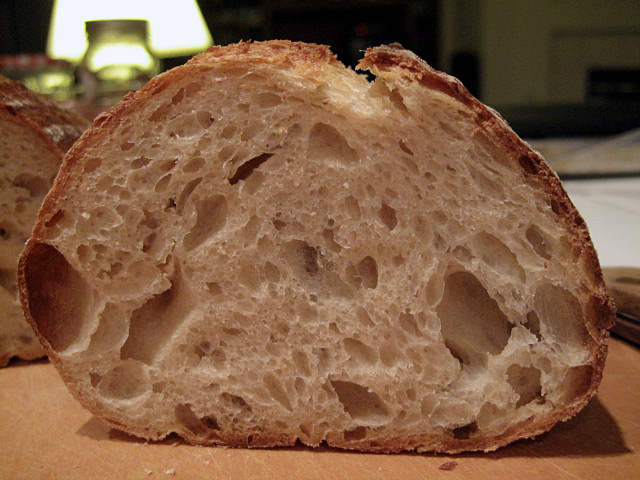 The dough did not become too extensible during cold retardation. This may have been due to the very strong flour I used. However, I did find the crumb less chewy than expected. The crumb structure, on the other hand, was not appreciably different from what I got when I retarded formed loaves of this bread. There was no significant difference in the flavor. You might note, however, the absence of the "birds eyes" - the little bubbles of CO2 under the crust surface. 
I would not hesitate to cold retard this bread in bulk again. When I do the cold retardation would be governed by my scheduling needs. The end result is about the same: Really good sourdough bread.
David
David