Croissants & Pains au Chocolat
Does the taste of a favorite food evoke in you indelible memories of time and places where the pleasure it has given you has put a mark on you for life?
For me, a bite into a buttery and flaky croissant and my taste memory takes me back to my childhood in Saigon where every morning, I would look forward to the familiar sound of the horn announcing the arrival of the "Bread Man" riding on his scooter with twin canvas trunks full of goodies straddling the rear seat to deliver fresh baguettes and croissants to the neighborhood houses.
The sweet smell of baking croissants always reminds me of the time when I was a student in Geneva, walking by a bakery at 6:00 am, suddenly being overwhelmed by the tantalizing aroma of freshly baked croissants, summoning enough nerve to knock on the door to convince the owner to sell me a couple before the store was open and walking home in the snowy winter dawn, enjoying the best croissants I ever had in my life.
A croissant with cafe au lait for breakfast always transports me back to my first visit to Paris in the spring, sitting at a sidewalk table at the Cafe "La Rotonde" in the Montparnasse area, sipping a cafe creme and eating a croissant with confiture, watching the morning bustle and hustle of Parisian life just like Hemingway, Picasso, Nijinsky, Gershwin and other luminaries had done at the same spot so many years ago.
I have been baking Croissants and Pains au Chocolat on and off for over 20 years and until recently, my favorite recipe was from Jacques Pepin's "The Art of Cooking". It is a foolproof recipe where you can follow the instructions verbatim and end up with great results.
Last year I discovered the Esther McManus recipe from the PBS "Baking with Julia" TV Series. I have tried this recipe about half a dozen times, tweaking it along the way to suit my taste and baking techniques. It has become my favorite recipe as I find that it comes closest to the Croissants and Pains au Lait that you can only find in Europe.
This past weekend, I made a batch of Croissants and Pain au Chocolat and following are my notes and recommendations:
1- I basically followed the step by step instructions in the video which are excellent. The link is www.pbs.org/juliachild/meet/mcmanus.html [1]
2- It is not mandatory to have the companion book " Baking with Julia" but it is nice to have as a back-up.
3- I use pretty much the same formulation except for the following variations:
    A- I use 1 1/4 cup of milk. I find the little extra milk makes the dough more pliable and easier to work with.
    B- I use 2 1/2 tsp Instant Yeast. I converted the amount into Instant Yeast because I prefer it over Cake or Dry Yeast.
    C- I use only 3-1/2 sticks of butter. More butter would only leak out during baking. I have tried different unsalted butters including imported "Le President", "Plugra"European Style and found that old "Land o' Lakes" works just as well.
    D- I use two 3 inch long "Valrhona" Chocolate Batons for each Pain of Chocolat. I splurge on a box of 350 pieces and they are disappearing fast as they are good to snack on as well.
4- I do not put a hot water pan in the turned off oven while proofing as recommended. I found out the hard way that it melts the butter in the dough.
5- I bake the Croissants in a preheated 425 degrees F oven with steam for 5 mins , then without steam at 400 degrees for 5 more mins and  finally at 375 degrees for 5 mins. I find it gives me better oven spring and a flakier crust than a longer bake with dry heat at 350 degrees.
6- The recipe should yield a dozen each Croissants and Pains au Chocolat.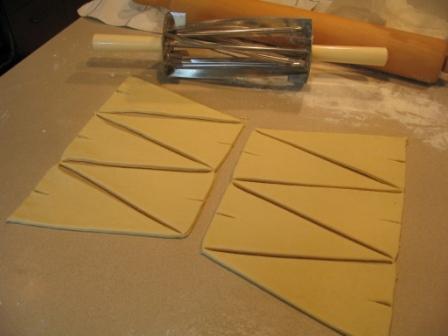 Dough cut into triangles with a Croissant Cutter, not an essential tool but a nice gadget.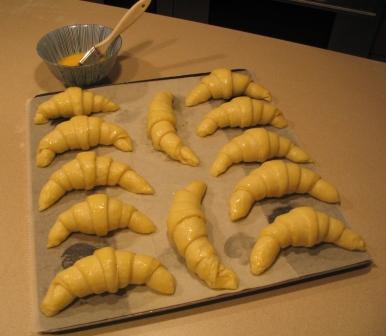 Shaped, proofed and egg washed Croissants ready for the oven.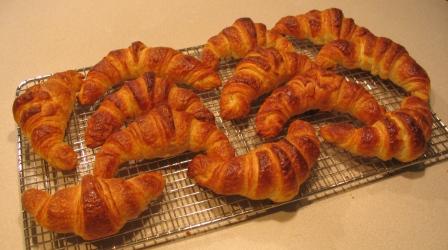 Baked Croissants cooling on the rack.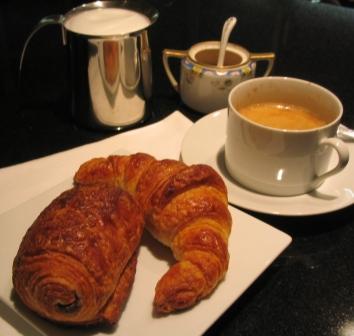 The ultimate Continental Breakfast with Croissant and Pain au Chocolat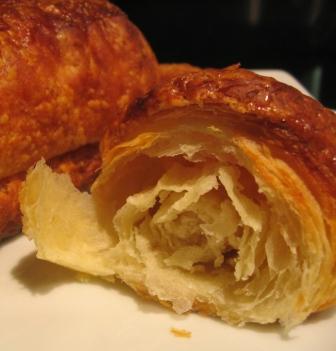 The mandatory crumb shot.
Happy Baking!
Don