Hello from Switzerland / Celebration Bread and Zopf
Hello everyone,
I thought it's about time to introduce myself. I have been a very silent member of TFL for over a year and reading pretty much ALL the forum entries through my RSS feeder. I enjoy all of your entries and discussions tremendously, this wealth of information and knowledge and have become so familiar with the regular members' creations and variations. I am so impressed!
I grew up in Switzerland (hello Salome and Thomas, fellow Swiss citizens) and came over to the US when I was 27, absolutely determined to stay only one year (teaching at a university). However, on that first flight I met my husband (coming from India to the US) and the rest is history. Even though both of us wanted to go back to our respective countries, we decided to stay in the US as this was somewhat  neutral ground for us (no one having the home advantage). It's been quite a few years since that flight!
When people ask what I miss most from Switzerland, one of my top three items is always BREAD and the bakeries and pastry shops in that same category. I started baking breads many years ago to fill the lack of hearty, thick-crusted loaves that I was unable to find here (I remember my fist visit to Panera Bread,  those loaves looked like they might have a good crust, but I was so disappointed after buying a loaf or two because they were just as "spongy" as everything else I had tried).
I have just returned from a month-long visit to see my family in Switzerland and my daily visits to different bakeries and trying as many delicious breads as possible is always one of the highlights.
I believe that my daily visits of TFL's forums have helped me with my bread-nostalgia.
All of my breads have been yeast-based until a few months ago when, through the inspiration of this site, I have started experimenting with sourdough, with decent results so far.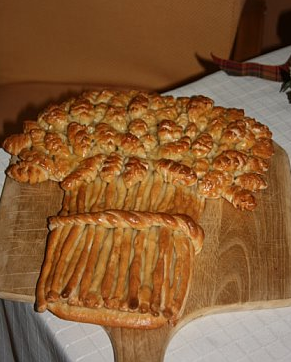 This is a celebration bread I made for the birthday of a dear friend. I believe it took me about two hours to shape this harvest wheat sheaf. I found it on p. 164 of "The Ultimate Bread and Baking Book" by Linda Collister & Anthony Blake.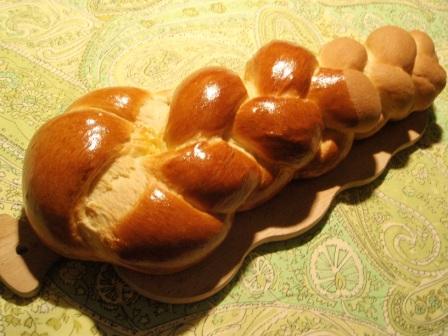 And this is a Zopf, a loaf that I bake very often since my kids absolutely love it, and it has also become an often requested bread from my neighbours, when I need to thank them for little favours. "Just bake me a Zopf," they'd often say.
It is two-coloured because my lacto-vegetarian mother-in-law was just visiting from India and unable to eat the part with the egg-wash.
I am looking forward to more inspiration from these forums and hopefully I'll be able to share a little bit something as well.
Anita